The Green Army
December 21, 2015
The Green Army I had first learned about the People's Climate March the previous June at the Student Climate Conservation Congress, where passionate students sat in big classrooms talking about big solutions to big problems. Back then, in the midst of our heartfelt goodbyes and sleep-awaycamp-promises of seeing each other again, we all swore to meet up at the Climate March. But, it was really my vision of marching around New York City, chanting environmental slogans with my fellow soldiers that motivated me to take the four hour long, bus ride to New York City September 21, 2014, at 7am. My pilgrimage started in Bethesda, where I boarded the Vamoose bus, and met other activists in my area. We exchanged stories and awareness signs filled with dissatisfied phrases like "The Consequences of Our Actions Spill Out Over Time and Space", and "Preservation is not Liberal or Conservative, it is Common Sense." The lady sitting in front of me on the bus was wearing all green, which in addition to her curly hair, eccentric glasses and pear shape, was reminiscent of a whimsical tree nymph from some of my childhood fairy tales. She and her daughter handed out "eye black" stickers that were green and had motivational words on them, so when people looked at me they could sense fierceness through the "Save the" under my right eye, and "Earth" under my left. Geared up and ready for battle, I exited the bus and made my way to the subway.
Looking around, I kept revisiting this idea that New York City is a microcosm of the world. With over 8.5 million people living in one grey container of corporate stock markets and skyscraper televisions, each individual person has a substantial impact on their community. There couldn't be a better place to host the largest environmental march in history. The subway was crowded and smelled like activism rolled with sweat. Everyone there was dressed in green and holding signs to save the world. The only commonality between the people heading to the march was the universal love for the environment; there were no age, gender, ethnicity or regional boundaries. Walking in and out of the metro took a lot of patience, as us environmental nuts were crowding everything and walking slowly. Few individuals stick out in my mind (like the crazily dressed Asian friend in front of me that had a mustache dripping off his face and a drum in his hand), but what I remember most is the shear amount of people that had gathered in New York to celebrate the Earth. When I finally was able to make it to the stairway, everything was illuminated. It took a second for my eyes to adjust to the brightness outside compared to the dimness in the metro. The line of people stretched out for what seemed to be miles, in a long-standing, decade-changing queue for climate justice. All I could think was: "I am here. I can't believe I made it. I'm here." I gathered myself and found the youth section in front. I reunited with all my friends from nerd camp, found a banner, held up ribbons from my wrists and embellished my arsenal of "Save the Planet" weapons. Then the bell whistled, and people started walking and running forward into a bright green future. For most of the march, I walked beside the rest of the "Youth Choose" section, filled with my former campmates.
We would chant songs and then stop to eat or rest before rejoining the crowds. People who were beside you for an hour would break off and rejoin, as part of a reforming stream of people. In the beginning everyone's energy was high, but throughout the day my energy would fizzle and pop like rock candy. Group chants would turn into self-pondering, and then into profane mantras. My personal favorites were: "EXXON MOBIL, BP, SHELL; TAKE YOUR S*** AND GO TO HELL" and, "WHAT DO WE WANT?—CLIMATE JUSTICE!—WHEN DO WE WANT IT?—NOW!" I was walking with fellow high-schoolers fighting for our future, so it was okay for our chants to be violent and passionate. I have definite memories of the beginning and ending of the day, but the entire middle is a jumbled compiling of specific people: like the people dressed as vegetable witches to promote sustainable agriculture, or the white-haired little boy sitting on his father's shoulders. I remember watching a man jumping up and down, and watching people dance and sing about conservation. I remember walking by a group of people sitting on a rock Lion-King style, holding signs of injustices done to the Earth. I saw Noah's ark float through the crowd as speakers were projected onto screens as famous actors like Mark Ruffalo walked in our midst. I walked with these people, and talked with them, and jumped up and down, and I laughed and screamed into cameras chanting for climate change justice. At some point, one of my friends, Logan, found a long piece of ribbon and rapped it around his wrists, so it caught the air when he ran to look like he was flying.
For me, my passion for the environment has always come from childhood memories in nature, and my appreciation for beautifully sloping waterfalls, and the way that tree roots extend in all directions. But, it also comes from this fear of messing up the world for future generations and for our history to become covered in giant piles of plastic bags and soda cans.
The problem is at home, environmental conservation is still such a controversial topic that it has been put in the pile of not-dinner-appropriate conversations with gun control and reproductive rights. Not even my parents are particularly concerned about my future living in a polluted, hand-me-down version of the world. But, the people I met and the community I became a part of, care and understand. That's the thing with the people I met, or saw, or was in the vicinity of that day; they understood me and my love for the trees, and of climbing along the Chesapeake, and chasing butterflies in gardens. These are the ones who, like me, have the quote, "Unless someone like you cares a whole awful lot, things are not going to get better, they're not", inscribed into their heart and brain next to their most precious thoughts. (Seuss, "The Lorax"). It's that community which taught me how to go home and spread environmental awareness, using my climate Anjali Berdia march experience like a shield against the "non-believers" (although climate change is not something you simply believe in, it's fact). In becoming part of such an international and diverse community, I have attached myself to something bigger than me in the grand scheme of things. And, If we do make a difference, our actions will "spill out over space and time", but in a positive way that rewrites history enough to make sure we still have one.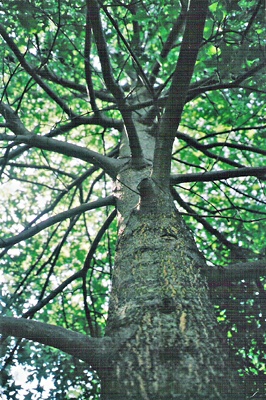 © Bhuvaneswari R., Sleepy Hollow, NY