From Safe to Trapped to Happy
December 1, 2015
"Whee!" I cheered as I slid down my purple and green slide, having the time of my life, with my super special sister "Lola".

"Look at me! I can slide down on my belly," I called out to her as if it was the most impressive skill ever to be done. Gosh, was she proud of me. She ran over and congratulated me on my victory. While she was giving me a tremendous hug, I saw a soccer ball fly over a nearby fence. I ran over and grabbed the vile object that had attacked me. I picked it up and gave it to my sister, hoping that she would exterminate it. I was told that it wasn't ours, so we couldn't keep it.

Instantly, I saw two figures walking towards us, and I wondered who they were. I started to get frightened. I had just realized that those were two girls that had kicked the ball to attack me. One was younger while the other was older. My family had just moved here, so I had not met anyone yet. I never talked to anyone I didn't know. Too nervous to speak, I used my sister as a barrier. I hid myself from them.

Soon enough, my traitor sister returned the monstrous ball that so ruthlessly struck me. As she spoke, I had two words on my mind: stranger danger. I noticed that younger one was staring right at me and waving, as the older girls were speaking with one another. My backstabbing sister, now annoyed of my clinginess, picked me up and set me down right in front of her. I was now next to the mysterious girl.

The two of us were like ice in heat, a tree in winter, and a cat with a fish. How could someone, a beast, do something like this to me? I was stiff except for my shaking fingers; the anxiety in me burned with the rage of over 1,000 suns, and my eyes were wide open. I was not ready to be let out into the vast unknown. I let out a roaring bawl and let tears of fright on my cheeks drip, drip, drop.

Thinking that I was trapped in a world of fiends, I sped with all the power in me to my sister and grabbed onto her. "Lola", now feeling terribly guilty, hugged and tried to comfort me. I slid behind her back to my original position as I noticed the girl I perceived to be a demon had upset look on her face resembling the one I sometimes have. As I looked at her more precisely, I realized that there was a look of rejection on her face that I had caused.

Then, I understood that she had done nothing wrong. "She had waved and smiled at me," I whispered to myself. "All I did was push her away like I do to everyone," I mouthed to myself. Slowly, one thought went into my mind and took my mind over like a virus. I'm the rude monster! Using every brave cell in my body I waddled out from behind my sister and said something that would give me a friend who has truly changed my life;

"Hi my n... na… name is C… Con… Constan… Constance. What is your name?"

"'It's Paige!'"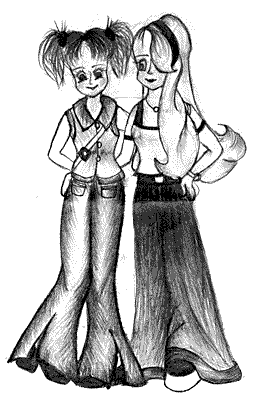 © Na L., Flushing, NY