"Suck It In"
MAG
April 29, 2015
It was only half a decade ago on our family trip to France, but it feels like something that happened in the deepest roots of childhood, buried underneath sepia photographs and lollipop wrappers. I was 12. We took the second day to go to the beach, and my sister and I ripped off our shirts and hopped into the tumultuous waves. I remember my toes sank into the sand like pennies in a fountain, and the smile on my face must have been wider than the French coast. We dried off, and my mother wanted a picture. We removed our towels and posed.
"Honey, won't you suck it in? This is a Christmas card shot," she instructed me. My sister snickered. Not until then had my belly been a thought.
Two years later, I had grown so that boys in my class called me "the twig." My belly had vanished along with my naiveté about what true beauty means to people. I ate little and wore baggy shirts. It was always "suck it in, suck it in, suck it in, suck it in" pounding in the back of my head, even among friends.
A year later, as a newly minted freshman, I was also new to the world of real relationships. Paranoia set in. My brothers often called me "thunder thighs" at my expense. High-waisted pants, walking particularly to avoid brushing my thighs, loose shirts, hair long to cover other absences like the inside of my empty stomach. "Suck it in, suck it in, suck it in!" The voices grew louder and intolerant of my body in the sunlight.
Last summer, a boy, the first one, jumping into ocean waves late at night. It was a party, a few laughs with my friends freed me of self-consciousness. Yet still, I heard, "suck it in, suck it in, suck it in." My towel lay on the sand a mile away. I swam vigorously to beat him there, quickly cover myself. He was always right on my tail, laughing at the "game." My skin felt the brisk wind, and I ran sloppily up the beach. He turned me toward him and looked me over like a patient or a prison inmate.
"Why are you sucking it in?" he asked, oh-so casually. I didn't expect anything less, and I didn't blame him. I was thinking back to that summer in France when the world began slipping beneath me. When I sunk to the bottom of a fountain and hadn't been picked up since. I tore away from his gaze, full of shame and humiliation, and walked off as if dignity still applied to me. "Suck it in, suck it in, suck it gone."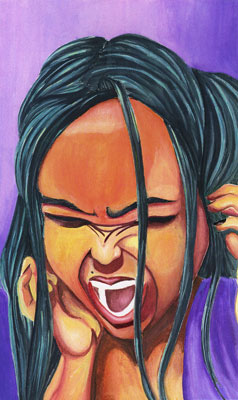 © Kriztille J., Briarwood, NY