Bleachers Concert at The Fillmore Review
April 12, 2015
I got to the venue at shortly before six; the doors opened at seven and the show started at eight. What struck me first was that there were only about a dozen people in line when I arrived, a sign that I would be close to the stage and that it would be a good show. It was my first time seeing Bleachers, also my first time seeing a show at The Fillmore, so I didn't know quite what to expect.
     That first hour waiting on the sidewalk was easy, and soon we were going through security to get inside. For my first time at the venue, I was relieved to find the security was breezy as there were three people checking bags at once. All I had to do was dump out my bottle of water is forgotten I couldn't enter with and I was going up the stairs. The venue was gorgeous as I walked onto the dance floor, with chandeliers and overall a very classic atmosphere.
     I spent the next two hours getting acquainted with the opening bands. Both Night Terrors of 1927 and Joywave were fitting for the main act, and even though they both incorporated electronica into their music, it fit well with the venue. The sound was clearer than I recall it being at giant, 20,000 person occupancy pavilions, especially as I was only a few feet from the stage. Not once did the crowd boo the first two bands and instead they began to dance towards the end as both of them brought out their biggest hits.
     I could tell from the start that this show was going to be a crowd pleaser. The last time I saw Jack Antonoff's other band, fun., it was nearly a year and a half ago, and he went on for days over social media about how it was one of the best fun. shows of all time. I could tell his attitude towards San Francisco was more loving than lots of other places he'd played, and when he wasn't performing, he glowed with appreciative energy. The crowd's involvement, because of this, was greater than normal, and their singing was as loud as it could get. He promised he'd come back and play for us again, then proceeded to play a surprise acoustic cover of Green Day's Basket Case as he claimed in listening to that band it was the first time he'd ever heard of the Bay Area. I was definitely happy to have something not on the default setlist, which usually only included Fleetwood Mac's Go Your Own Way besides Bleachers' usual catalog.
     Because Bleachers is just over a year old, they only have one album, which limits the creativity of the setlists. But because their debut album, Strange Desire, is well-composed and cohesive as a piece, the show had a central theme. Although I had seen Jack times before as a guitarist, I have never seen him as the star of the show. He brought his essential energy I was used to, but a burst more having the responsibilities of the singer. Switching out guitars I saw him use the first time I saw fun. three years ago and using a sampler for the vocals of Grimes, who sang on Take Me Away, I saw a range from him; it wasn't just the same guy standing and playing an acoustic guitar.
     By the end of the show I was sweating and wishing I'd drank more of the water I'd had to throw away earlier. The crowd calmed down and the lights went up again, and most of them began to file out the door. I went up to the barricade to see if I could maybe snag a setlist, something I'd never succeeded in before. To my disappointment, though, people were already crowded around the barrier, however, instants later the stagehands began tossing the abandoned guitar picks out to the messy dance floor. The second flew in my direction and I scrambled around on the ground to pick it up, ecstatic as I'd never "earned" one before. As I met up with my mom, who had been sitting on the balcony, I slipped the pick into my pocket, knowing it was a better souvenir than any of the shirts or posters at the merch booth. To close perfectly, the Fillmore has a tradition of printing unique posters for each gig and giving them out at the door afterwards. I'll definitely be framing mine.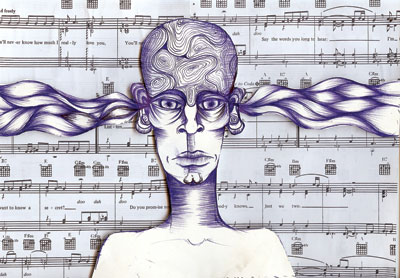 © Ani S., Petaluma, CA