Film Acting
MAG
"There's gonna be one less rugrat in this room!" The words rang in my ears as the convict pointed his gun against my head. The floodgates opened and tears poured down my face. No one in the courtroom moved; everyone was held silent in the grip of fear. A few seconds passed and the convict put down his gun, turning his back on me.

"Cut!" the director screamed, and an explosion of applause came from the other side of the wall. One take! We had done the scene in just one take.

The cast split for lunch, and the convict who had moments ago been so scary carried my eight-year-old self on his shoulders, punctuating the distance to the cafeteria with a patter of corny jokes.

I got my food and joined everyone. A table of adults surrounded me, but I was never uncomfortable talking with strangers. I worked with these people and they worked with me; we talked, we laughed, we got to know each other and sometimes we became friends. At the end of the day we all went our separate ways, but we had been drawn close by pulling together to make this amazing episode.

After the show aired, my friends asked if I had been scared by the convict. At first this sounded ridiculous: he was, after all, a kind, funny, intelligent man. Then I realized they did not see that side of him. Television and film are about creating an alternate life that appears real, if only for a while. We had been successful in doing that. Even my friends, who knew the real me, were drawn into the make-believe world of our story.

Acting has helped me feel comfortable in my own skin, and in communicating with others. I am at ease during interviews and when leadership opportunities arise. Change is not threatening to me, and I am grateful for the chance to learn and to grow in knowledge and experience in my life.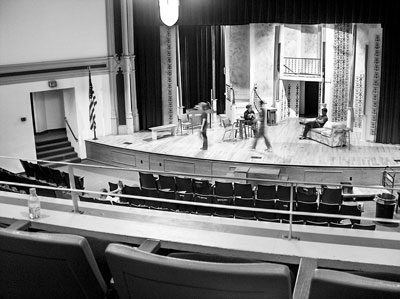 © Anonymous