The Movie That is Our Life
MAG
     The reel begins to roll. This is my kind of movie. It has action and medieval battles, nothing that she likes. She came, though. This whole thing started three days ago, and it is different from all the others. She is different from all the others. I didn't really know her before we got together. Every day is a new experience. I find myself looking at her more than the movie screen. We get close; she rests her head on my shoulder. My fingers graze her cheek. Her face is warm and soft.

I want to kiss her, but I am too nervous. I have never been nervous before. Is it too soon? The desire takes over. My head moves closer. Her eyes begin to close. I tremble slightly from nervousness. Her kiss is like a drug that goes straight to my brain.


*      *      *
The water is freezing but if I tell her I am cold, I will lose this moment and moments like this cannot be brought back. My feet and ankles are numb, but I can only focus on her. Her eyes look almost painted with watercolors. The big band plays at the pavilion 100 feet away. People walking by must think we are crazy, two 16-year-olds standing in the ocean and holding each other close. I don't care what others think. If only they knew how good this feels. She shivers a little. It's adorable. I ask her if she is cold. She says of course not. I love her for that.
*      *      *
I knock on her door. I feel empty. I have never felt this bad in my entire life. I have taken for granted everything she has ever given me. I put myself in a situation that went out of my control. She knew something was going to go wrong, but I was too stubborn to listen. She feels worthless. I feel selfish. She feels betrayed. I feel like a thief. She opens the door. She has been crying. She turns to go upstairs. I follow. She sits on her bed and pulls her knees up to her face. What have I done? She begins to cry. My heart falls to the floor. This is entirely my fault.
I tell her I am sorry. She says that is not good enough. I confess that my mistakes are unforgivable but that I love her. If I love her so much, she asks, why would I do something like that? I want her to know that I never wanted this to happen. She covers her face and all I can see are the tears falling. I feel the heat rise to my face. She looks at me. I begin to cry. I hug her but she does not return the embrace.
I tell her that I will do whatever it takes to get her back, and stand to leave. She walks me out. I turn to face her for what I believe may be the last time. I kiss her on the cheek and walk out the door. What have I done? She is the greatest thing that has ever happened to me and I threw it all away for nothing.
*      *      *
She stands in front of me, her bags in hand. Her coat almost reaches the ground. I know this because I am staring at her feet. I can't bring myself to look at her face. Her plane is ready to board. She has been talking the whole time about how she'll only be gone a week and then she'll be back. That skirt makes her legs look amazing. She says she will call whenever she has a free moment. Did she really have to wear my favorite shirt the day she goes away?
I never noticed that she has a small freckle on her chin that is really adorable. I have to look her in the eyes. Who knew it was going to be this hard? My eyes reach her mouth and I make out the words, "You know I love you." I know she does, there was never a doubt in my mind. I finally look her in the eyes and all the bad feelings I have about her going away vanish. Everything is going to be fine. She knows exactly how I feel without me having to say anything. She picks up her bags and I tell her I love her. She starts to walk away and I call to her. She turns, blond hair whipping around her. I tell her she is beautiful and that I will see her in a week. She smiles and walks away. One week and counting.
*      *      *
The hustle and bustle of dinner goes on around us as I stare at the beauty sitting across from me. The man to my left talks about a trip he just got back from while the college guys talk about various parties. But none of it matters. I am only focused on her. Her eyes dart from speaker to speaker and when she moves her head, the light catches her eyes just right and reflects all her beauty. She tells the story of our trip to the mountains and sends a coy smile my way. I melt. All I can think about is that there is no happier person on earth than me. This night is perfect. She makes it perfect just with her presence. We look at each other and know we are thinking the same thing. I love you, I love you more than anything.
*      *      *
I knock on the door. The sun washes out the early evening sky. I open the door and right away am hit with the sense that something is not right. I walk up the stairs and the last step creaks like it always does. She is sitting on the end of her bed. I see crumpled tissues around her and realize why I couldn't reach her on the phone. Her head rests in her hands and her breathing is jagged. I rush to hold her and she begins to cry openly as I stroke her soft hair. She calms down and without her saying a word, I know what happened. I tell her everything will be okay and that I am right here. I kiss her cheek. Her face is salty. She is exhausted from crying and drifts off into a dream world where things like this don't happen.
*      *      *
When I write about these memories, the reel in my head begins to roll. I can recall exactly how I felt in a certain situation that occurred nine, ten, even eleven months ago. I feel as though I am sitting in a theater and watching my life. She is the star of the movie that is my life. I am her leading man. Together, in our own world, we are the most famous celebrity couple. Through all the bad things that have happened, all our fights, we love each other even more. Is it crazy that I am only 17 and have already found the woman I want to spend the rest of my life with? I still have so much to experience, but I have already found the one person I want to share it with. Am I just being a naive teenager? I don't think so. I know I love this girl with all my heart. I know that I do.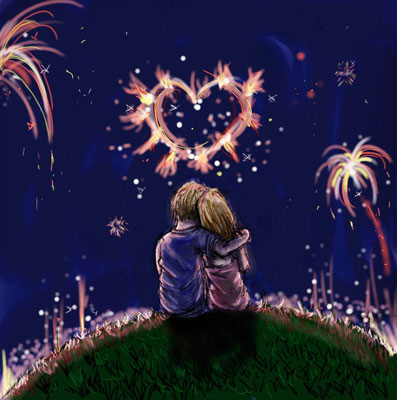 © Carissa G., Aberdeen, WA