Change in Me
MAG
Fourth grade. That odd, tangy odor of everlasting apples swirled with pencil shavings and the potent smell of small rodents. In the corner, little squeaks emerged from baby quails shoved in a cardboard box with nothing but a 20-watt bulb to keep them snug. The schoolteacher stood with a veiny, wrinkled hand on her thin hip at the head of the room. She gazed upon the children, and the little ones stared back with round, curious eyes.

The 62-year-old mouth opened and out came scratchy noises that ran through the room, like little mice, and burrowed into the young brains.

"Writing is fun, class," the woman said, taking in a slow breath. "And important!"

Both pieces of information were false in the mind of a 10-year-old who had just come inside after winning a game of dodgeball.

"You will write a one-page paper on what you would like to be when you grow up, using your new writing skills. It will be due Friday."

A long, disappointed sigh hissed from every mouth, including mine. From where I sat way in the back, the old woman was just an ant. I pondered that fact. The paper was due Friday, and it was only Monday. Four days to have something happen to me so I didn't have to write the stupid paper.

Wednesday: two days until it was due. Baby-blue skies. A fluorescent-bright sun. A sweet smell of tulips and lemonade. The loud siblings. The dumb paper! What was a 10-year-old to do? I grabbed my bike and rode away.

Thump. Blackness.

A bright, white light. I must be dead. Opening an eye, I looked around. A doctor was wrapping a purple wrist and bleeding fingers with gauze. I attempted to wiggle my thumb, but without success.

"You were riding up a curb and flipped over the handlebars. You slid across that cement like it was water," explained the older sister.

A giggle. All I was thinking was, This has to get me out of that paper!

I walked into the classroom with a fake frown. "I'm sorry, I didn't start the paper and now I can't do it," I explained, invincible.

"Just take your time and ask someone to help you write it," the old woman said.

Writing was never my favorite. In fact, I despised the craft and didn't think I'd ever need that skill. I avoided it because I was no good at it. I didn't know how I could persuade someone, in five paragraphs, that recess should be longer and I was in a special class for slow readers, which made me feel even stupider.

Once I graduated into the School of Higher Education, I knew that these excuses would not work and I was soon changed for the better.

"You have been programmed to believe that all you can write are the typical five-paragraph, highly-structured essays. Here, you will break that awful habit and write what you feel, what you know. Show the details instead of telling a story. Describing the beauty, not the way you think of it at first, but its true meaning. Beauty is anything that stirs the emotions. Now, take a sheet of paper and for 10 minutes, go wild. Show what you're thinking in detail," said the literature teacher.

The ideas were flowing into my head. I ran my hand over the paper. All was silent in the room except for the 24 pens and pencils excavating teenagers' thoughts.

I felt free to write anything. My infatuations; my personal experiences; the deaths in my life, both physical and mental; the pains; the joys. I wrote and didn't stop until the 10 minutes were up. I reread the document of emotion I had scribbled out - shock. Relief. It wasn't too shabby!

During the term, I wrote and wrote and rewrote, exploring my thoughts, developing my reading skills, and craving knowledge. Writing turned into a passion.

Creative expression was what I lacked all those years. Now, writing is no longer something I try to get out of but a long, winding road of challenges pushing me to create something of which I am proud. Writing is an art just like composing music and when all the parts come together, it is a sweet, lulling symphony.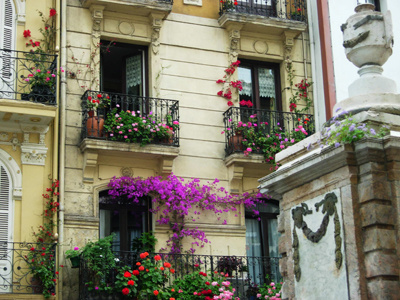 © Anonymous