Tracking Time
October 23, 2013
I was once told that I should avoid two things to be genuinely happy; mirrors and clocks. Although I've come to accept the fact that it's impossible to escape your own reflection, the ticking of a clock continues to tease and torment me through every day. I carry a time tracker, which doesn't make the dissonant and echoing ticking that a clock would, but my mind has associated that noise with it's crinkled pages and schedules as engorged as a stuffed tomato on a cardboard plate, congested and oozing with fiery flesh and minuscule, white seeds. It's as if every day is determined a week beforehand, and I carry a checklist in the back of my mind in order to keep every hour of my life useful and necessary. And even that system fails.

I wonder what I could do with the time I've spent staring at a blank wall when I've come home and gotten into my pajamas after a long day at war with the world. I could study for the algebra test in the morning, or go upstairs and convince my mother that I do appreciate her, or text that boy on the bus who takes the time to give a crap about me, or even read that book my sister left behind, the one she always said was her favorite even though she would say that about any book. But the time soars in the air, vanishing when I need it, and spreading out for a summer vacation in the desolate sun when all I want to do is leave this math class, leave this awkward social situation when I'm expected to speak, leave this world that can never catch up with itself.

We're all so lost, always living in fear that we're wasting our lives. Every second counts for me, because at this age of sixteen, I've already lived about a fifth of my life. And half of that time I can hardly remember; I can only be reminded by my mother when we walk across a bridge or go into a little shop on the corner of how innocent and sweet and naive and extroverted I used to be. To be haunted by those memories, and the moments today that will be memories tomorrow, intimidates me and only makes me clutch tighter onto the laminated cover of my time tracker. What if today will be a waste? What if I won't learn anything, the teacher calls me out for not speaking enough in class, my sister decides not to reply to my texts or my letters or my emails, my friend on the bus decides that I'm not worth his own precious time because he himself is worried about wasting his life?

Every check mark, every underlined phrase, every folded flap on nearly every page in my time tracker, is just a reminder of the time and effort I've put into just feeling this emptiness. All this work, and all I seem to get out of it is a midnight breakdown nearly every evening, a frustrated look on my mother's torn face across the table, and brief flashbacks to the moments I had with my father over the summer. I can still smell the fresh, salty air on the strand, see the honesty and urgency in his narrowed eyes, feel his wrinkled and hairy arm rest on my tanned thigh. Time used to slowly unfold every movement, every blink of an eye, every whisper, every sigh, so that I could really interpret the truth in them, so that I could try to grasp my purpose for existing before the kite of truth would be swept back up into the clouds until another day when I again felt lonely and introspective. I suppose I'll have to carry this heavy weight through my life, it giving me only moments of clarity to admire the blur between who I am and who I used to be. I wish I could be her again, but I have to catch up with the world first.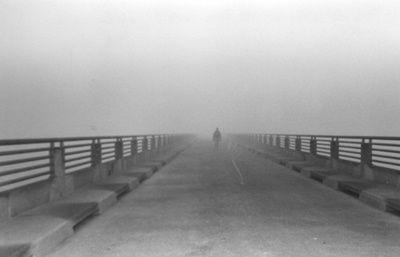 © Becky G.,Westerville, OH