A and B
MAG
February 8, 2012
B, on a whim, is sitting next to A. They are friends, but not close. B knows A is smart and kind, so they work together on in-class assignments. In social studies, they doodle Olmec heads. In philosophy, they bounce around ideas.

A and B start using MSN to talk to each other. First, to study for tests. Then just for fun. B tells A about the sub who pronounces "master" like "mustache," and they realize they share the same humor. At school, the two classes they share become filled with secret giggles and inside jokes.

B starts looking forward to seeing A.

They choose "The Great Escape" as their theme song. The tune is popular, and rings true with them: "We won't hear a word they say, they don't know us anyway."

To keep warm on wintry days, they sing it at the top of their lungs after school in a very public setting. People stare and laugh and sometimes join in. B is surprised she doesn't feel embarrassed.

Hand in hand with A in the courtyard – a bewildered audience looking on – B sings, and her worries are swept away by billowing winds.

On a rainy spring day, B writes a long-winded note about her "problems" and other sappy things. She has the typical teenage opinion that no one can understand her. But A reads the it in her fourth period class, and empathizes completely. B is grateful. She tries to reciprocate.

A's talk grows serious. At school, guys are picking on her, which infuriates B. She starts noticing that A is always wearing sleeves. B talks with A into the night. She isn't quite of the selfless type, but A's hurt becomes her own pain.

In the meantime, they sing in the rain.

Urged by gentle summer heat, they start a private blog, "The Chronicles." They promise to write frequently, to fight the peril of separation, since they won't be going to the same school next year. They promise to write about all the things they wish they could talk about. And
they do.

They go to high school. With A on her mind, B sings to herself in the hallways of her school. She works on friendships, because she ­understands their value. She is kind and attentive to those who need her to be.

She talks to A at least once a week.

•••

There are friends who share interests, friends who tease each other, friends who are confidants, and friends who are just for fun. And then there are friends who inspire each other to be more than just themselves – to be better versions of themselves.

A writes an essay about B bringing her out of her shell. B feels A has switched the roles.

A inspires B to be compassionate and confident and selfless and unashamed of who she is.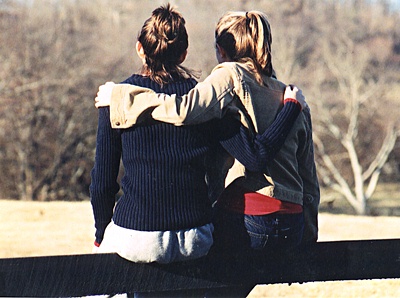 © Jaime M., Wichita Falls, TX