Death is Unbiased
November 9, 2011
When I awoke on Friday September 8th I did not have any intuit that I would be reminded of my own mortality later that day or that I would realize how truly unfair life is. I trudged to school in my morning grogginess to P.E my first period. I groaned while slipping the ugly, uniform red shorts on and I stumbled my way through the hour as I tried desperately to not slip on the damp, blatantly fake Astroturf field. After what seemed like an awkward eternity of exercise I changed back into my street clothes, a stripped blue sweater, my favorite pair of tight jeans, and my black Vans shoes. I took extra care with my lipstick and was late leaving the locker room. "Perfect," I thought idly to myself. I was without a clue that the rest of my day would not be anything in resemblance to perfection.
I left the gray locker room and turned the slight corner into the stairway where the other students were passing to the next class. Then, as if a harsh spotlight was cast, I saw her, Elena. She was sprawled on the hard cold concrete ground right by the unforgiving flight of stairs. She looked more like a broken doll than the carefree girl I was used to seeing. I ran as fast as my pumping adrenaline allowed me. A friend of mine was already at the scene pumping hurriedly on her chest like her life depended on it because it did. There was no question otherwise. I got to my knees as if to pray and put her limp head unto my lap. Her mouth resembled a gaping fish desperate for air, like the rest of her peers who stood by the stairs frozen and unmoving statues. I noticed white dried foam in the corners of lips as I stroked her purple hued face and checked her near nonexistent pulse. "Come on Elena! Open those eyes!" I scream as my friend performed another round of CPR. Suddenly I felt her pulse stop.



I lost my composure and started screaming to the dumbly gawking crowd of onlookers to call an ambulance, to call anyone but me. I lifted her eyelids and her deep coffee colored eyes stared lifelessly back into mine already far away in a better place. The paramedics came 7 minutes late and my friend and I were escorted into the school office.
Later that night around 9:30 my phone rang ominously. Heart racing, I answered the call. "Hello?" I whispered nervously into my cell. "Mattie?" a voice cautiously whispered back. "She's dead." I felt my tense hands turn as cold as Elena's body as I went into shock, I closed up the phone, shoved it aside like one would do to a mess, pushed secretly under a rug in an attempt to hide it. The rest of the night was long and emotionally draining, as were the days leading up to her school-run memorial the following Sunday. Ironically it was sunny and cheerfully bright for such an unjoyful event. The tall oak tree sported flyers, pictures. Her friend's memories over its light brown bark. A large group of students, a mixture of friends and acquaintances stood silent aside from a few sobs. A disgruntled, shabbily dressed man with a tear-stained face stumbled out of the crowd in front of the tree and yelled as if to God, arms raised to the sky, "Why has this happened to me? She was so young! Take me instead! Not her, please, not her." Someone whispered to me that he was her father. The crowd erupted into sobs at the display of raw emotion. Wiping tears from my tired face I left the memorial shortly after.

September 8 was the day I lost my naiveté towards the world. I realized at the too young age of 15 a girl can developed a life threatening blood clot disorder and die at any moment. I realized that death is unbiased towards age and gender. It doesn't consider your plans for the day or ideas you have yet to share. Life is unfair and it is desperately short. Which is why Elena not only taught me about death but also taught me the importance of enjoying life. I feel as a friend who witnessed first hand the last moments of her life that I am now responsible in living to the fullest every moment that was taken from her.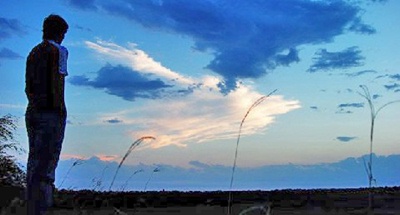 © Stefanie K., Katy, TX