The Story of Us
March 16, 2011
"Shania, I'll never leave you," he whispered, as I leaned against his chest."I promise."

I looked up into his multi-coloured eyes and said, "pinkie swear?"

His eyes sparkled,and he smiled, leaning down to touch his lips with mine.....

***********************************

I laid down on my bed, staring at the ceiling. I couldn't believe this was happening. I knew me and Bryan wouldn't have lasted. I knew it was going to end. Everything ends eventually, right?

I turned on my Ipod, the light of the touch screen making my room a beautiful blue. I scrolled through my music, and finally found it. The opening chords of "The Story of Us" by Taylor Swift filled my ears. I listened to it once, twice... four times. Anyone who listened to a song, for emotional release would understand the reason that I clung to that song like a life preserver.

The thing I didn't understand was that if Bryan planned on leaving me, why did he lie and say he wouldn't? He told me he loved me.... So why did he go away?

As I lay there, thinking of an answer, memories of me and him made me start to cry.

Our first kiss, which happened on a cold December night, with snow falling around us. The time you said you loved me, the time you let me wear your sweater, and when I cried for the first time in front of you. All these memories came back.

I felt my cellphone vibrate, and I looked at who was calling. I accepted.

"Shania?" Caleigh's voice came over the speaker phone.

"Yes, I'm here," I answered, sitting up in bed.I took my long brown hair, and attempted to fix it, by putting it in a ponytail. No use. Still as terrible as before.

"I just heard what happened," Caleigh spoke as fast as she usually did, without taking time to breathe. "Oh hun, I'm so sorry."

"Word really travels fast..." I said, letting the sentence trail off.

"I know. But, if you need me to do anything, just say. I'll be over there with a carton of ice cream in ten seconds flat."

I considered the question, and then told Caleigh I had to do something and that I'd call her back.

I went into my contacts, and scrolled through them, until I came to Bryan. I hesitated only a moment, but then "click". I deleted him. I deleted our pictures, our messages, our songs. Finally, when I felt like I had all but deleted him from my heart, I called Caleigh back.

"Yo," she answered.

"I'm back. Now.... About that ice cream...."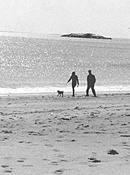 © Megan S., Marblehead, MA