The Friendship Circle
October 28, 2010
They're always being laughed at, being picked on,those three girls.
The one with the short brown hair is Holly. Blond braid? That would be Dana. And the tall cocoa skinned one will be Aryana.

They're not much too look at; not very pretty by high school standards. They act weird, y'know, alway hopping around and practicing "ballet" steps. They're very talented when it comes to singing, I have to give them that.


I find it so mean that they have to be the center of such ridicule; all the teasing, tormenting, laughing. Always being a part of snide conversations.

"Did you see her hair?"
"Who do they think they are, bouncing like a buch of hippo ballerinas."
"Bouncing ballerinas!hahaha"

All they see is three ridiculous, slightly overweight clowns who love putting on stupidity shows for the benefit of other people.

...But I see something different.

I see three girls, fellow human beings. They sit around making friendship bracelets and singing with each other. And whenever one of them (usually Dana) is upset, they're always there to give hugs, provide words of comfort.

I know it bothers them to be talked about, but that doesn't ruin their friendship. Bonded together by a common thread, the thread of teasing and social abuse, they're invincible. And I admire them.

I know that I can't be the one to talk; I don't hang with them. But neither do I tease or talk about them behind their backs. Instead I watch them, and envy them the frienship they have, the closeness they share. Because even though they act weird, and they're not very popular, I know I can say one thing for sure:Poularity doesn't matter.

I should know, because I'm a fairly popular girl myself and never once did I have a friend. I mean sure, there are people I hang out with, people who I care about and who care about me. But there's never a person who will lend me a shoulder to cry on, who will act weird and silly and be embarrassed WITH me, not for me. A person to dress up with for Halloween simply because we're celebrating our youth. A person who knows that what I really want for my birthday isn't a new sweater or those awesome boots for 40 bucks; it'sa slumber party. Where we just paint our nails, have pillowfights, and talk about boys we had crushes on, not because they were cute, but because of their nice personalities.
Friends sorta like Holly, Dana, and Aryana....



******
One day I'll talk to them. Maybe even today. And I'll be sure to let them know that I don't give a damn about what people say. Because I have finally realized that I'm leaving my popularity, my so called "status" for something truly extraordinary: a friend.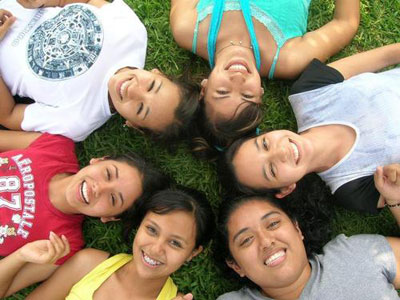 © Ana F., Guadalupe, Mexico