A Night Spent Stargazing
August 6, 2010
I looked out my window late one evening, only to behold the largest and roundest moon that I had ever seen. Entranced by its beauty, I followed it out of my house and into the beginnings of nightfall. Out on my driveway, I laid myself upon the ground, the better to view the celestial scene which stretched far above me.

The sky was unbelievably clear. It was lit with myriads of tiny lights, which shone brightly between the deepest depths of darkness. I felt like I could see, with my eager eyes, every star that burned in the universe. It was easily the most beautiful sight that I had seen in nature for a long time. The stars were sprinkled, carelessly yet intricately, across the heavens. The moon was like the proud mother of them all, fixed resolutely in her place in the sky.

Suddenly, all of the stress that I had been carrying in my mind disappeared. I think there's something about spending your solitude in a place of breathtaking beauty that seems to clear the blemishes from your troubled spirit. All my worries were melted away by a newfound feeling that was burning in my heart. I was witnessing something angelic, a miracle. An onlooker of something deeply great, who was I to bother with the trivial worries of my social life on the earth?

I spent many hours under the sky, awestruck. The street that runs beside my house was golden, lit only by a single lamppost. The houses were bathed in darkness. My mind was filled with great thoughts. My senses were sharpened; and I relished the chilly air, the rough asphalt, and the symphony of night. I could barely tear my eyes off of the moon, which was slowly and gracefully making its great journey across the sky. When I stumbled inside my house that night, I'll bet my family saw something strange but vibrant in my eyes.

It is essential for all of us, as humans, to see things like this. This is what gives life its essence. I have never been the same person since that night, because something from somewhere visited me and left a vivid mark upon my soul. We must spend time in seclusion like this, regarding the greatness of a God given world. We must reflect upon ourselves and our lives, so that we may be possessed by something as great as what I saw in the sky that wonderful night.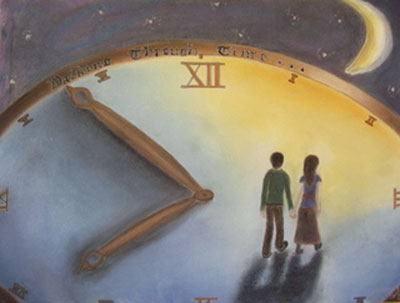 © Carollynn G., Hawthorne, NY