Cheap Prom
May 26, 2010
Frustration was soon soothed once I got your message. "The gate is closed." A smile lit up my face as I read the words on screen of my phone. I quickly explained how to leave the gate open before going back to finishing my makeup.

The dogs began to bark when you got out of the car. Dad made a failed attempt to hush them. The knock on the door filled my stomach with butterflies as it sounded through the house.

"Why, hi there," Dad said when he answered the door. I heard a crinkle of plastic. I imagined the flowers in the plastic wrap hitting the door as you closed it behind you. I loved those little surprises you granted me with.

I heard you give your welcoming to Dad.

I checked myself over once more in my mirror. I turned off my appliances and shut off the light before heading out to the kitchen.

I walked into the room, unaware of what stood before me. I looked up towards you, then down to my feet to make sure I didn't lose my footing, like I do on a normal basis. When it registered, I stopped in mid step. I was startled to see your appearance. I took a step back without noticing and paused once more, eyes barely widening. Where your blonde hair had once been to your eye brows, was no longer present. It seemed to have disappeared. Vanished. It was now cropped. I had questioned my imagination at one point before this what you could look like with short hair, but what I saw before me didn't do it much justice.

All I could really think about was how you cleaned up very nicely.

I barely noticed that you had pulled a dozen roses in an assortment of colors out from behind your back. Instead, I couldn't tear my eyes away from your new look. So different, yet I enjoyed it.

A smile lit up your face. The same smile you've always worn around me. The smile I love.

Dumbfounded, all I could bring myself to say, "I like your hair cut." A smile spread across my face as I spoke.

You handed me the roses. I asked Dad for a vase when I was unsuccessful in finding one on my own. You noted that I should cut off the ends of the stems before placing them in the vase.

As I grabbed the scissors, my hands began to shake. If you noticed, you didn't say anything. The tips flew across the kitchen and onto the floor. After I was halfway through and giggling from your reactions, you began to retrieve them from all of the places they landed. My hands continued to shake. I couldn't exactly figure out the reason for the trembling. I hoped it would subside soon.

I placed the roses in the blue vase and hurried them to the desk in my room. I slipped my vans on and headed back into the kitchen, hopeful to leave as soon as possible. Without thinking, Dad pointed out our matching shoes. They were the same shade of light blue. For the first time I realized we were coordinating without thinking.

I wore my blue dress. Black and green designs covered the fabric. Nothing too special. Too fancy for school, yet too casual to wear to a formal outing. I looked to find you wearing a dark blue polo with small red stripes width-wise across your torso. I noted the grey-blue shirt popping out of the top. Your washed out jeans drew everything together. Still my eyes were drawn to your hair. Unbelievable. Your bright blue eyes seemed to stand out more than ever.

After saying our goodbyes and again promising I would let Dad know when we were to leave places, we walked towards the car. Your hand came up to rest in the middle of my back. At the touch I couldn't help but smile. Before you opened my door for me, like the gentlemen you are, you turned me towards you and kissed me softly.

I watched as you navigated through the streets easily. You frustrated me with keeping the destination for dinner a secret. I soon began to accept it. I didn't mind the surprise after all.

Without thinking I began to giggle when you got into the turn lane to the parking lot. I had remembered how we had passed it only a few weeks before. You had mentioned that you didn't know there was an Applebee's so close to home. I should have guessed. A smile began to stream across my face.

"Don't laugh at it," you said defensively. Still I continued to giggle.

I barely touched my food, yet you finished your entire plate. Normally it was the other way around. I found the situation odd in a way.

You paid the bill, and with some time to waste, you drove us aimlessly down the streets.

You had turned around and were heading back towards the end of town we needed to be when we got stopped at a light.

"I really hate this light," you stated.

"Everyone does," I said simply.

There was silence for a long moment. The light still hadn't changed. "Is that where you guys wanted to go tanning?" you asked randomly.

I looked cross the street. I knew where you were talking about. I had passed the building hundreds of times. The western-feel building had a sign that read Quil Ceda Tanning. Below it listed leather among other things. I began to laugh uncontrollably. I calmed enough to say, "Well, I don't think Hailey wanted to be made into a rug."

You gave me a crazy look, which only made me laugh even harder. You glanced between me and the store.

Once you didn't reply, I explained, "That's where you make the bear rugs and get deer heads mounted."

Realization showed on your face. You laughed at yourself. "Oh," was all you were really able to come up with as a response.

Finally we pulled into the movie theater parking lot. With a flick of your wrist, you opened the change slot. A wry smile spread across your face and touched your eyes.

"When was the last time you played at an arcade?" you asked.

I honestly wasn't surprised you beat me at both games we played. I never was good at video games, let alone arcade games. But I had been laughing the entire time, so I didn't mind losing.

The disappointment of being forced to sit in the front row of the theater subsided after we got into the movie. I was content with resting my head on your shoulder and your jacket draped over my legs.

Time flew by faster than I had wanted it to. The movie ate up the moment we were able to spend together, but as long as I was with you there could be nothing better.

Our feet matched pace for pace as we walked out of the theater and into the lobby. Two different groups of young teenagers huddled together at either sides of the lobby.

"Rejected. . ." you said under your breath as we walked by. I hadn't minded to listen to what they chatted about, but from the scene I could come to the conclusion that someone's plan hadn't quite work out for that night.

You led me back to the car, and brought me to the driver's side.

"Hold on you said quietly. You found a song and started the car.
A chill went up my spine.

"Are you cold?" you asked when you noticed my shiver.

"A little," I replied. I shrugged on your jacket that I was holding, trying to keep a little warmer.
You pressed play and smiled.

"Nice choice," I said as I listened to the slow music play. A smile grew more and more on my face.

You stepped closer to me. I couldn't help but admire your hair again. I was still in awe. I couldn't find the words to begin to described how much I liked the change. You looked so much older. Hansom. Stunning. I liked this kind of different. As my eyes wandered to yours, butterflies filled my stomach. These butterflies I never minded. I welcomed them with open arms, just how I did to you as you pulled me close.

My hands linked behind your neck, and yours mirrored mine around my waist.

"In a way, I've gone to two dances with you now, and yet I still haven't danced with you," you said in my ear.

I began to beam as I understood what you meant and leaned against your chest. We swayed from side to side, slowly spinning in circles between the neighboring cars. From time to time we pulled away to look each other in the eyes. A kiss here and there. I loved how whenever I rested my head on your chest you would delicately kiss the top of my head. Instantly a grin would light up my face and my cheeks would receive a pinkish tint. I would bury my face a little deeper into your chest.

"I wish it was just a little darker," you said, breaking the silence between us. "And that is was warmer, so that you wouldn't be cold." You hugged me a little tighter.

As I smiled, I wanted to say that I always felt warm with you, whether it was body temperature or the warm feeling of happiness around you. But I kept quiet, not knowing how I could try to word what I was thinking.

The song came to a slow end, but you still held me close.

I thought to myself that even though we didn't spend hundreds of dollars to have a fancy night full of music, dark dance halls, all of the people we have come to know, and a high school event we were missing out on, this one slow dance out in the parking lot of the Marysville Movie Theater with you in the dimming evening was more memorable than a dance in a group of hundreds of people. People didn't have to be distracting and needed to have faded out in the background for it to be just the two of us. This was better than my wildest dreams could have ever imagined on the night of prom.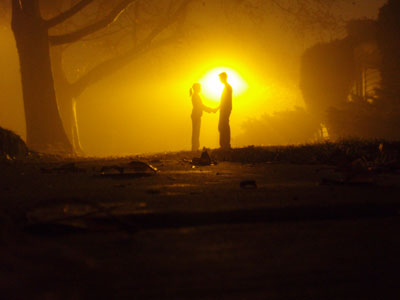 © Tanner H., Kaysville, UT