September
January 21, 2022
September. I enter the doors anxiously, trying to remember where each of my new classes were. Everyone was excited to see eachother again after the three sunny months of summer. Dance starts today after school, and surely the season won't be cut short again this year. Classes feel easy and breezy right now. I am confident I will get straight A's this year. I don't think I'll be getting homework on the first couple of days of school, so I'll be spending my time how I want to. Every Friday I'll be getting ready for the football game. Everything about them is crazy fun. Dressing up for the theme, filming every touchdown on my camera, and looking above at the huge student section that chants so loud. What a great start to the school year.
October. Homecoming has been on my mind lately. No date from school, but I did end up asking my celebrity crush and he answered! Unfortunately he already had plans. It's okay though, I'm waiting for prom to come around so I can ask him again. Missed a few days of school and missed a few assignments as well. It's fine, I have so much time to make it up. My biggest worry right now was what I was going to be for Halloween.
November. Best month since it's my birthday month. I had so much I wanted to do, so much I wanted to see, so much I wanted to buy. I'm starting to realize I can't do physics though.
"3 missing labs in AP Physics".
Crap. Looks like I need some extra help. Anyway, I just turned 17! Threw a huge party and had my friends over. Thank goodness Thanksgiving Break is coming up. I want to make so many plans with my friends and family.
December. Lost a few friends. Gained a lot of missing assignments. Can school end already? Why does it feel like 20 degrees in this room. Oh great, there's snow outside. I can't wait to get in a car crash. The days at school felt longer and the nights felt way shorter. I hate daylight savings.
"You tested positive for covid. You need to quarantine".
Oh even better, I can't wait to miss two weeks of school and assignments. How was I supposed to learn the material when I wasn't there? I'm exhausted.
"13 missing assignments. 5 unread emails".
I want to cry. I want to drop out of highschool. Take me back to the good days when I woke up happy every morning. Take me back to when I didn't feel hopeless. Take me back to September.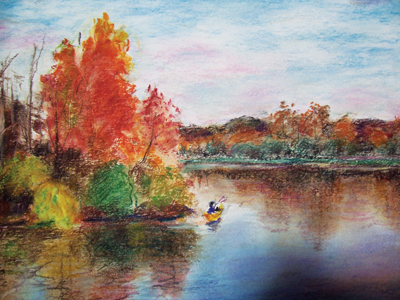 © Xiao H., Naperville, IL