Love is singing Britney Spears to make me laugh.
July 28, 2009
What to write about this time.

.. ..

What to write.

.. ..

Past, present, and future.

.. ..

As I sit here, I'm torn.

.. ..

Actually "torn" is not really a good term for what I am. You see. When I hear the word "torn" I think carefully separated into two or more pieces. Gentle, slow hands. Concerned movements. Little pain.

.. ..

My conclusion was just reached that I am definitely not torn.

.. ..

I am ripped.

.. ..

I have been rigorously, painfully, and carelessly ripped apart.

.. ..

A realization.

.. ..

The realization that it is a great possibility that true happiness will never make its way to me.

.. ..

It ripped me into three.

.. ..

There are complicating factors, just like in any situation.

.. ..

Jealous friends.

.. ..

Misunderstanding fathers.

.. ..

Helpless mothers.

.. ..

Religious sisters.

.. ..

Finances.

.. ..

Society in itself.

.. ..

However, despite these objections, happiness always consists of three things.

.. ..

Love, success, and approval.

.. ..

Love.

.. ..

Everyone would like to know what love is. To me, the term is pretty cliché.

.. ..

I love you.

.. ..

Thrown around and stomped on. That's what that is.

.. ..

Love is playing with my hair until I fall asleep. It's sacrificing the remote for me to watch a marathon of Will and Grace. It's getting along with my gay best friend even though he makes you extremely uncomfortable staring at your crotch all the time.

.. ..

Love is singing Britney Spears to make me laugh and John Mayer to make me melt. It's telling me my hair looks great, when I know it doesn't. It's letting me have your favorite hoody to sleep in. It's taking me to the first showing of Batman at 12:02 in the morning.

.. ..

Love is letting me drive, although you're much better. It's being in the most awkward position just to hold my hand. It's accepting my pediphobia with seriousness. It's forehead kisses and the smell of your shampoo. It's letting my little sisters paint your fingernails.

.. ..

That is love.

.. ..

A third of my happiness… in three paragraphs.

.. ..

Amazing.

.. ..

Success.

.. ..

Success is indefinable also. Everyone has their own personal goals.

.. ..

To some, getting married and being Supermom is a completely successful lifestyle.

.. ..

Ugh. Apparently, that's not my style.

.. ..

To me, success is not by salary, or even time spent, but how well you do what you do.

.. ..

Call me crazy. I want to be a high school English teacher.

.. ..

I want the hand-me-down desks with gum stuck to them and the text books that should have been replaced a decade ago. I want the smell of Expo markers and cheesy posters about academic excellence.

.. ..

I think of how much a select few of my teachers influenced my life. I want to be that teacher. I don't want to just teach grammar and pronoun usage. I want to teach life lessons. I want to be able to say "s*** happens" just as my favorite teachers have said to me and actually be listened to.

.. ..

I won't be well paid, and I know that going into it. It truly doesn't bother me.

.. ..

However, I will do well. I will be a genuinely good teacher.

.. ..

A third of my happiness. Sweaty kids in school. Strange, but true.

.. ..

And last.

.. ..

Approval.

.. ..

This may surprise some people.

.. ..

I don't really care about other people, what they think about me, or why they think it. It's just my personality.

.. ..

But being called a disappointment most of your life kind of gets to your head.

.. ..

It won't be today, I'm sure of it. But soon, my true character will be able to go free. There are a few things in my way now, and they are the main things keeping me from reaching my full potential of contentment.

.. ..

One day you will approve.

.. ..

Maybe not of my choice of lifestyle.

.. ..

Or the clothes I wear.

.. ..

Or the music I listen to.

.. ..

Or the strange friends I have chosen to put myself around.

.. ..

But me.

.. ..

And as much as I hate to admit that, it's true.

.. ..

A third of my happiness is affected by the arrogance of others and their complete lack of understanding.

.. ..

When I get one element, it seems another disappears. I fall in love, and I lose approval. I succeed, and I lose love.

.. ..

So I am ripped into three very distinct pieces.

.. ..

Give me time.

.. ..

I will put them together.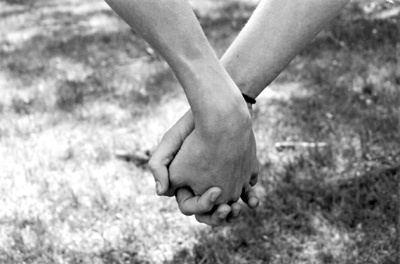 © Alexa T., Pompton Plains, NJ