The Best Kind of Superhero
MAG
January 22, 2009
I woke up just as we got off the highway at our exit. I peered out the window at the church I never knew the name of, at the familiar stoplights and street signs, marveling that no matter how deeply asleep I am, I always manage to wake up at exactly this point. The silent bends in the road, the dark passing landscape, gently rock me out of sleep. There's something about home, I think, that transcends slumber, that penetrates the soul even when it is unconscious.

The rhythmic snoring from the back seat was mesmerizing, calming. My parents were sitting in silence. The moment was so lovely that I laid my head back down, feigning sleep, so that it would continue for just a bit longer – until we turned onto Bartlett Street and the potholes jostled the car, waking my brother and my sister too.

From the front seat I heard a sniffle. I peeked in the rearview mirror at my dad and saw tears gushing from his eyes. He didn't even wipe them away; he just let them fall. Water pooled at the crevices beside his mouth and overflowed, streaming down his chin. Never taking his eyes from the road, he stared straight ahead. His hands, normally grasping loosely to the bottom of the wheel, were clenched around the rubber. His arms were flexed, as though he were competing in a NASCAR race, not meandering through the quiet back roads of Needham, Massachusetts.

The sound had to have come from my mom. Propping myself up on an elbow, I glanced at her. She, too, was crying, but with boundless emotion. Her chin quivered and her eyes were searching as she gazed up at my dad's hard face and put her hand over his on the wheel.

He didn't seem to react. He did not look at her. But I noticed a moment later that his hand loosened a bit, and his knuckles, so white, returned to their normal color.

Don't you think you should pull over or something? I wanted to ask, but was hushed by a rush of sadness so powerful that it seemed to physically force my head back onto the headrest. I felt clobbered; a dull pain throbbed in my neck and my mouth felt dry and shriveled. I had no idea why they were crying, but nevertheless tears began to prick my eyes and constrict my throat, making it difficult to swallow.

My mom and dad remained still, past the library and through the winding neighborhoods I knew by heart. I lay quietly, trying to control my breathing, determined, for some inexplicable reason, not to be discovered awake.

We turned onto Highgate Street, and my dad twisted to look at my mom. The silence was so thick I felt as if I could hear the muscles in his back realigning, see the phantom words he longed to say forming behind his pursed lips. I was struck with an uncanny desire to reach into the trunk, grab one of our oversized beach towels, and soak up the interlacing streams running down his face. Instead, I struggled to keep my fluttering eyelids closed.

As we pulled into the driveway, I pretended to wake with my siblings. Not saying much, I carried my suitcase to my room, changed into my pajamas, and crawled into bed. I felt drained, but sleep did not come.

I'd seen Mom cry often – during sappy movies, while reading the Chicken Soup books, through my whole fifth-grade graduation, even at my singing recitals. She's a sucker for sentimentality.

So the reason the incident struck me, then, was because of my dad. I'd seen him cry before – at family funerals, even when my brother was born, I think. After all, I realized, everyone is supposed to cry at these occasions. When I was younger I would pinch my eyes shut, willing the tears to trickle down my cheeks, convinced that if I didn't cry it would mean I wasn't sad or ­happy enough.

But in that instant, I understood that my dad was not the person I'd always thought he was. My dad, who'd been an Eagle Scout, who saved lives every day and balanced my mom's anxiety with his unshakable calm, was susceptible to pain. I now saw that he'd concealed it when he could because he felt that he had to, because he knew that we were relying on him.

I had always likened my father to a superhero, capable of escaping worry and sadness and doubt. The discovery that my dad was not, in fact, invincible should have disappointed me, should have shattered my childish image of him. But instead, it only made me admire him more. That night, my dad's facade crumbled, and that did make me sad. But he was still as strong as ever. Sure, my dad wasn't an impervious superhero anymore – he was a human superhero, and to me, that made him even more incredible.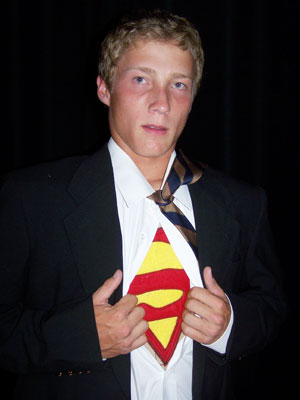 © Sophie M., Wolfforth, TX