Procrastination Motivation
January 22, 2012
Tick tock…tick tock…tick tock…The minute hand slowly but surely advances by the second, with time creeping up from behind you. Counting the number of minutes you have left until the advancing due date, you feel you have all of the time in the world. Sooner or later though, you will be cursing your clock, the mortal enemy. The couch beckons you to come sit down and take a rest, but the never-been-looked-at science project paper is glaring at you from the corner of your ripped apart bedroom. The guilty feeling in your gut calls your mind back to the pointless project all weekend.. It's to the point where you can't even enjoy your precious seconds of the day. We can change your ways though. All you need to do is follow the steps and learn the art of a beautiful practice we like to call procrastination. Procrastinating is rewarding. It's easy as pie! You know pie…apple, pumpkin, banana cream. But that's for another how to essay. First and foremost, always keep yourself occupied with things that "need" to be done before you give in and start working. Furthermore, enjoy yourself, keeping the project in the back of your mind until it is absolutely necessary. Lastly, when you feel the time is right (usually it comes the night before the project is due) go full speed ahead to get going on the things that you need to finish. Tick tick…tick tock…tick tock… it's time for procrastination.
I dust my shelves making sure that my Swiffer sweeper makes its way into every little crevice. After all, Mom's been begging me to clean them for I-don't-know-maybe-ages and plus it'll be sure to help my irritating allergies. I brush the wisps of yellow shedding hair off of my Labrador. After all, my mother's been ordering me to finish that chore for nearly weeks. I pull down the winter clothes from the ratty, scary attic. After all, my Mom's been nagging my dad about that one for who-knows-how-long, and I'll be doing him a favor. Keeping yourself obligated at all times is the key to procrastination. It works best if you work on things that absolutely need to be done, besides the project or assignment you are putting off, of course. If you partake in activities, chores, or events that your parents approve in, it's a win-win situation. Your guardians will be so overjoyed that you finally listened to them for a change that all thoughts of reminding you to "DO YOUR HOMEWORK!" will race out of their minds like rabbits hopping away from the sticky fingered little girl who want a "huggy". You are getting things done, while not getting things done at the same time. Everyone is happy.
"Aaaah," you whisper as you sprawl across your silky sheets enjoying the too-short weekend. This is the life. Never once do you let your mind even ponder as far back to Friday Morning when your boring monotone algebra teacher groaned, "All extra credit assignments, missing homeworks, and signed test papers are due on Monday." It's 3:00 on Sunday night, you've got plenty of time! When you are procrastinating never let your mind wander to the task at hand. Pursuing this further, do things that you want to do without fretting over the unnecessary assignment. After all, none of your teachers are at home writing five paragraph essays that will be one third of their marking period grade. None of the teachers are cutting, pasting, and constructing posters on muscle disorders. None of the teachers are trying to figure out the impossible problem, "find the value for X" No, I can guarantee you that the teachers are snuggled up at home, sitting in their lounge chairs by the fire place, and eating chicken cheese steaks as the watch their TV programs. They aren't thinking about school, so you have every right to relax too. So, just forget about it and do what you want. If you have any doubts, make your thoughts flash to the teachers who are greedily giving you these assignments. The ones who are making you work like a slave during your small time period spent at home. Give yourself some time to relax without letting your mind flash to the seven-hour school day plus three hours of homework that you have ahead of you.

Okay, let's set this one thing straight. If you are willing to procrastinate, then you will have to be ready to work full fledged when the time comes to finish your assignment. Remember what I said about not thinking about any of the work that you have to finish? Well, on the night before the project you have to disregard the rules and think, "Oh $@*%, my projects due tomorrow!" This usually scares the beegeezus out of first time procrastinators, but it really is the only down side to the process. Believe me, is quite simple. If your science project that you've been dreading is due tomorrow, hop on your computer, and jut down facts about hemophilia and cystic fibrosis right away. A helpful tip is to go to a web site where all of the information smacks you in the face right there, so you don't have to waste time doing too much research. If it's 11:00 on a Saturday night when you finally remember that you have Teenbiz due, skim the article, ace the activity, and make sure to pick the thought question that you only have to write a summary of the article for. If you have an essay due tomorrow (kind of like my case right now) than write like the wind! No matter how much procrastinating that is taking place, you always have to know that the night before your assignment is due could be a little treacherous. But since you had time to lounge around and be lazy while letting your mind leave the painful thoughts about the projects, it all pays off in the end. Buzz around like a busy bee the night before everything is due, but remember to feel free to procrastinate in between the time it takes you to finish. When your done your done, but there's always something that needs to be procrastinated.
It's the night before my How-To essay is due, and guess what. I'm finally, after a gazillion light years onto my last paragraph. Why, you may ask, did it take so long for me to finish up writing a simple two paragraphs. Well, let's just say I practice what I preach. I'm sorry, but there was a marathon of "Kourtney and Kim take New York" on tonight, and honey, it was all about the breakup between Kim Kardashian and Kris Humphries after seventy two days of marriage. There was no way I could miss that high quality material. Also, I did spend twenty or so minutes picking out an outfit for tomorrow, because, even though I tried on like fifty different outfits and still went back to the first one, you know I need to be prepared in the morning. Plus, I had to sort through all of my baby pictures, since I need a few for the yearbook. Yeah, maybe I went a little overboard. But, hey look. I had a fantastic day,I'm almost finished, and it's 11:26 pm. That's not too bad. So do you believe me now? Procrastinating is rewarding. First of all, occupying yourself in things that absolutely... positively need to be done is the grand supreme factor of procrastinating. I mean, before this, I went through a whole bin of pictures. A whole bin! Moreover, keeping your assignment tucked in the far corner of your thoughts gives you a day of luxury, a day that you can really enjoy for yourself. Laying all cozy in my fluffy comforter, listening to the droned voices of the Kardashians as they fought, and hanging on the edge of my seat when Kim began to doubt her marriage, was like a day under the palm trees. Last, but certainly not least, you need to work until you drop from exhaustion the night before your assignment is due. I don't think I've ever worked so hard to finish an assignment as I am right now. Procrastination provides motivation. "Emma!" screams my Mom over the click of the keys, "Go to bed!" Well, I guess there's my cue. I'll go to bed as soon as I.... fling my dirty clothes in the hamper, as soon I... print out my homework, and as soon as I.... well I think you've got the picture. Tick tock...Tick tick...tick tock... procrastination never stops.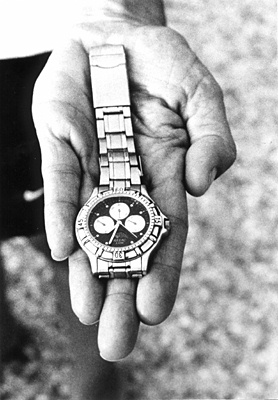 © Nicholas B., Highland Village, TX