The Checkered Flag
MAG
One, two, three, four were the numbers on popsicle sticksheld in a chilled hand. Position one was what I prayed for as the other kidschose. My sweaty but cold hand reached over; the number I picked wastwo.

Racing on the snowmobile track in Eagle River I felt like a championalready, with all eyes on me. The stadium was bigger than a football arena andfilled with people to watch the larger snowmobiles race.

All lined up, Iput my thumb on the throttle. Fog filled my helmet shield and exhaust filled mynostrils. The green flag went up.

The throttle went down and I lived up tomy nickname of "Quickthumb," as I was first out of the pack. Five lapsto go on the dug-up track. Snow fell lightly as I looked out from my shield. Thecold air was kept out by my snowmobile jacket, snow pants, long johns and manyshirts. My gloves were soaked with snow and sweat. My feet were slightly warm inmy wool socks and enormous clodhoppers.

On the corners I leanedto the left, but on the straightaways I tried to remain calm. My adrenaline waspumping and I wanted to go faster and faster, but I was going as fast as thesnowmobile could take me.

The white flag was pulled and fans cheered. Mostof them didn't know anyone racing, yet were on their feet, gloves thrashing.Trying to pick out my family, I realized I had to maintain my concentration.

I looked straight ahead, only glancing to the right every once in a whileto check if anyone was catching me. I was waiting to turn the corner and see theblack and white flag. Keep the throttle down, I thought. Don't lookback.

I saw the checkered flag waving in what looked like slow motion. Onestraightaway left. Every motion seemed to have slowed, and the noise faded away.The finish line crept closer. Don't spin out. Do not let go of thethrottle.

I took the checkered flag in front of tons of people. I had justbeaten three boys for the first-place trophy. I looked up at the crowd, slappinggloves beating a soothing yet exciting rhythm, even though they didn't know whothey were clapping for.

My head held high, I could not take the smile offmy face. I was so excited my body didn't seem to be cold anymore. My mind blockedout everything except the fact that I had just taken first place in thechampionship Kitty-Kat Snowmobile Race.

There it was, standing three feettall. "Ashley Hines" was the name announced over the loudspeaker. Iproudly strutted over to the trophy and shook a man's hand. In disbelief, Ireceived my trophy, then walked out of the stadium, triumphant.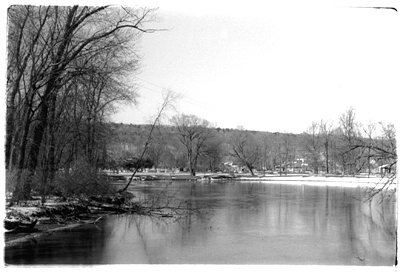 © Anonymous