In the October Wind
March 15, 2014
In the October wind. Hugging myself, my legs half-hanging over the sidearm of the plastic chair I place myself in, I close my eyes. And let my ears and cheeks see for them. Quite odd some would say. Well, the sound of the wind rustling through the trees and the sense of the, at times soft, at times fierce, breeze on my cheek does work the way sight would for others.

And there is only me. In that chair, sitting underneath the Jaaman tree with yellow leaves lying around the lawn. Opening up my eyes to see the sunshine peeking through the tree leaves. Such an adorable sight. I feel autumn is quite beautiful in its own way. And deep down inside I feel like I've wanted these few moments of solitude for quite some time and yet never was quite able to grasp what it was that I needed so badly until now.

For in this silence, by which I mean human silence, for nature is roaring – well in this silence, I think of so many things and so many people. People I haven't thought of in quite a long time.

Pushing away the locks of hair from my face and mouth, I sigh. I turned 18 four days ago. I cannot believe that it has been four days already. And yet when I look at it, seems like ages, seems so much longer than those four days, seems like it has been forever. But forever is a word I use too casually. It's been forever since you called. I've been waiting here for you since forever. Life's so busy, and I feel like it's going to be that way forever. I have loved you since forever. I will love you forever. I have been dying to talk to you since forever. It's insane that 'forever', this wonderful word is so misused (maybe not always though), in all those phrases and sentences that I speak so often to friends and family.
Anyway, back to that turning 18.

Well – back when I was little-ler. Cause I'm still little by the way. So when I was little-ler, I had this notion that when I turned of age I'd get this getting-older feeling. No such thing exists I'm realizing now. I'm still the same old me, aren't I? In fact, today, more 'me' than I have been in ages. (And hehehehe "in ages" is also one of my most-used phrases I see.)

So going back in memoriam and looking at my thoughts and thinkings from then – Oh, shoot looks like it's going to start raining in minutes. I better dash inside.

In my room now. As I'm settling down in place I notice sand grains on the bed sheet. Hmm. So, there really were specks of dust in the wind and it was stuff getting in my eyes and not me getting sentimental out there. Haha. Maybe a bit of both. Well, I never did claim that I was the hardcore stone-hearted. I do get quite staggeringly nostalgic at times. As I did a few moments ago out there. But I guess it was a good kind of nostalgia; the one that brought merry tears of remembrance into my eyes and made me smile ever so subtly.

Inhale. Such a wonderful aroma. I do so love the smell of rainwater on the ground. Everybody must I suppose, because it is nothing but beautiful. And I can hear the raindrops hitting the windowsill and the ground around it and the roof. How I have always adored rain. Well, let me not turn this into prose about rain because I'm sure I would never stop if I properly got started.

So then I resume thinking of me. And what I had thought life would be and what I think it would be now. And what I hope it would be. (which are three different things believe me!)

I think of all the art I had thought to create. All those days daydreaming about my art exhibitions all over the world. I think of all the stories I had hoped to pen down. And all those publishers I'd imagined up, Preferably Bloomsbury, seeking to publish my books.

Most said my dreams were unrealistic. Scorn is not uncommon in this world. Even at the age of eleven a child is told that what he thinks to do cannot be done. It is not possible. It is not achievable. Instead of being encouraged to pursue something one loves, one is told to gather some sense and find something that can actually benefit them in the real world. Not by my family, but by everyone else in this world. They all equally participated in the daydreaming. And admired every little creation of mine. Sometimes despite the fact that it wasn't too remarkable.

Oh, but it was preposterous to even think that I could ever paint anything good enough that it was admirable and could be sold. Art Exhibition? Such a joke. Publish a book? Absurd. And these people I speak of would oftentimes smile to themselves in that "She is such a child, I am a wise person" – way, as I told them of my endeavors.

Well, it matters not. None of this ever was important. Nor shall it ever be. Their opinions did not affect me. But I wonder what did. And the answer is a fluttering butterfly. The moment it seems I am within reach, it flies away.

For if I look at myself now, all that unlimited energy seems to have disappeared. Even when now I write, it seems I've grown rusty. An excerpt from one of my Haiku: "words are at a standstill, and don't flow from the heart like they used to."

Some months ago I had this brilliant idea for a novel. In fact my best friend gave me the grounds for it. Pushing me and pushing me to think of something to write about that I believed in. And it isn't like I don't have ideas every day. I do. But this one idea: I was passionate about it. (I am passionate about it) I wanted to write and write and write and write until my hands hurt and I couldn't find words anymore. And yet, my novel has been put on hold. Simply put, I don't have time for it.

When 2013 began I got this itch to sketch buildings. I realized how epic building sketching was. How there were so many beautiful buildings in the world. Another thing to my "things to do in life list" was added: Visit Venice and sketch all the time you're there. And yet, I haven't sketched anything other than Rialto Bridge and the Eiffel Tower still. Simply put, I don't have time for it.

Poetry, which in my dictionary is not "Literature in metrical form" but "The most beautiful fashion of writing ever invented, a language in itself, and unharnessed natural beast, divine — "and well it goes on. Anyway, I fell in love with it in 2009 to be precise and have written many poems since. Different styles, different types. Exploring the unexplored and venturing into every nook and corner to look for similes and metaphors and creating something new out of the alphabets. Well, no surprise to know that I haven't composed much poetry in quite a long time. And all that I have is nothing but dejected words and painful mourning. No happy inspirations at all. Simply put, I don't have time for it. And that makes me all the more vexed.

What do I do then? What do I do with my time? Well, yes I waste a lot of it. Though of course if you asked my family I waste ALL of it (and Oh, I sleep a lot too!) In reality I've been focusing most of it into driving myself to achieve this one thing: good grades and getting admitted to a great university. When people ask me what I am going to do I answer, "I am going to become a software engineer." In contradiction to my answer some years back, "I don't know really, but I am pretty sure I'm going to be an author and an artist." But anyway, the thing is, when something is in your priority list, you make time for it. You take time to make time. But I suppose now that I don't have enough time for these things I have inadvertently pushed them down my list. Something I regret every day. And am trying very hard to remedy; because this is stuff that I love, stuff that makes me who I am.

So well, when I wondered up there if I had actually grown up. I guess it was wrong to suppose that I hadn't. And well, the people that think I haven't are – simply put – wrong. Letting go of the stuff you love so much (for such a long time) and spending all your days concentrating on achieving that practical and realistic goal, if that ain't enough growing up. I really don't know what in the world is. So what if I am childish in everything else. I like being that way. And we all have a right to do as we please so long as it doesn't annoy others and really this shouldn't and doesn't.
I guess all our lives we try just want to grow up and when we have we keep wishing for a time turner. Yes, I did not like growing up either. I do not like it. But I've made my peace with it. And have made my peace with that disturbing notion telling me I may completely forget about my art. Which I did by telling myself that I cannot and I shall not! That this is just for one year. That this is a struggle that requires me to sacrifice some things and sacrifice makes one stronger. That I do need to get stronger and that I shall return to all of it. When? Soon. After all, I am the one that says, "No, time doesn't fly really, it runs with supersonic speed."

Anyway, such insanity. I really should muse saner stuff and stop contradicting myself at every point. Besides, I shall always be that little girl. The one that learned to walk and talk even before she was eleven months of age, the one that threatened her parents, "I'm leaving this place" and went as far out as two lanes off when she was two years and a half and the one who is currently desperately in need of a driver's license.
Don't worry Jack Frost, even though the moon didn't talk to me; the wind, the winter, the sky has. And well - they whispered things quite nice. And well, I believed them. And I still don't know why but whenever I look up at the sky. I smile. Inevitably. Uncontrollably. Incandescently. I smile. And I think, and this is a hunch but well, that it is because I know that God is watching over me.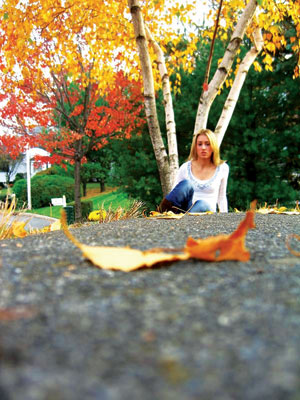 © Stephanie F., Garnerville, NY