Realization of Reality
December 12, 2010
A bitter warm chill greats your bare skin as you step into the brilliant transition of fluorescent to natural. The simple detail of a single green leaf sprouting out of the wood chips brings wonder to the mind and comfort to the soul. Yet, there's a certain emptiness to be felt as the suns gentle end of summer rays smile down upon you. As you watch the young saplings, so beautiful and youthful yet lacking in the wisdom that other trees seem to have, you begin to feel the loneliness and emptiness of the plants as they cry out for some animal to come romp through their bright green blades and loving petals. A comforting chill breezes through reminding all that are conscious that life still runs through their veins, contemplate how the wind can make such noise and move so sweetly but lack a living existence. How can such a thing inspire and affect the lives of the living when it has no breath of its own? A spider scurries out of sight as if on a mission from God, so determined to survive in a world that makes every attempt to diminish and demolish its chance at existence.
A consistent attempt to belittle life is a disease that plague's human existence. A disease that is inescapable when ignorance is so blissfully free to roam and romp through the minds of the young and old. Only the elderly have some concept of how life is turned into an insignificant thing because they are often times the victim. Only compassion and love can manage to bring humanity and hope into the lives of those who cease to exist while still very much alive.
One can often find difficulty in appreciating the existence of another because many believe that it is possible to fill the glass of life to the brim with material things and still have room to poor in an equal amount of spiritual ideals. He is oblivious to the overflowing glass. People are convinced that there is no capacity to what can be crammed into one's life whether it be time spent doing certain activities or values established in one's own heart. The problem with establishing an infinite amount of morals and values coupled with material things is that these things will quickly start to contradict. When this contradiction begins one is faced with a decision that is unavoidable but often deniable. One denies all that is inconvenient to him and avoids eye contact with all who dare hold him accountable.
As spiritual ideals are replaced with material things, one often finds himself living outside of his means. This person may claim allegiance to a supreme being, a higher authority, but in reality he is trapped in the most prevalent, persistent and common bondage of this world. His hands are shackled by the chains of money. His soul is owned by the Demon of Pleasure, a deceitful creature that is here for only a season. One does not choose the freedom given by the one who promises contentedness for eternity, but instead pays the price for immediate and temporary desire. He has cursed himself with Stupidity and bathes his skin in Ignorance. Denial is his mistress and Lust is his advisor. His Queen is Envy and Worldly Pleasures are his downfall. Decency is his court Jester and he is the King of Fools!
Human misfortune is turned into a game that has no end leading to a death that gives no rest.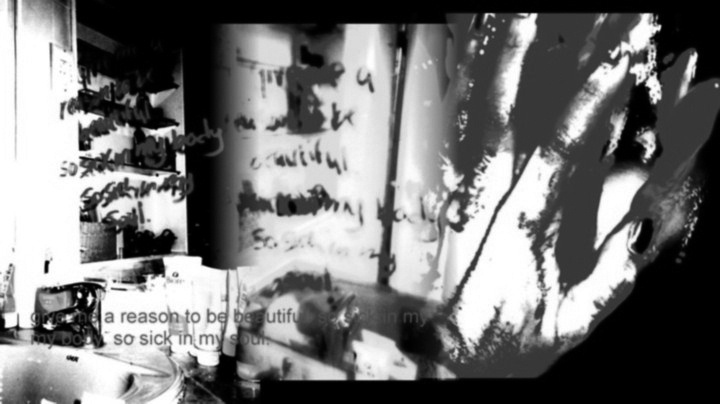 © Shann L., Tai Po, Hong Kong