The Unknown Addiction
MAG
Every once in a while, the craving returns. Usually at night, usually when I'm alone. That's when the emptiness starts setting in, the strange black feeling that settles in the pit of my stomach. I used to succumb to it easily. Now I'm fighting the addiction. So many times I wish I could just give in.

It begins very small. So small, you don't even realize what you're doing to yourself. For me, it started with a safety pin. The cuts were small, small enough to explain with simple excuses. I thought that would be enough. I thought I would be able to control it, but I didn't know half of what I know now. Cutting is an addiction, just as bad as cigarettes or alcohol. It eats up your life, and you don't even know it.

They just kept getting deeper. Longer. More difficult to explain. I had to hide them. I was wearing long sleeves in summer, coating my arms in layers of jelly bracelets and wristbands. I even caked my arms in foundation to hide the line of fresh cuts I had made the night before a choral concert. Anything to keep it hidden, to muffle my cries for help.

Things were getting out of control. I felt like I needed to cut just to feel alive. All day during school, I'd think about it. Crave it. When I finally got home, I could hardly control myself. I'd cut without even knowing why, not even thinking, just allowing the pain to take me to a new level of unconsciousness and bliss. By this time most of my friends knew. I could see them worrying. For some reason, though, I didn't care.

My last cut was a year ago, after almost two and a half years of addiction. Now, I still find myself craving it. Anything can trigger a craving: hearing about it, writing about it, even just chopping veggies for dinner. I find myself thinking, Just one more time, it can't hurt. I want to succumb to those feelings so badly sometimes. But I can't stand the thought of sending eight months of hard work down the tube. I just can't stand the thought of disappointing myself like that.

When I see people who have the same battle scars, I wish I could tell them what they're dealing with, but I don't think they would listen. Maybe they already know.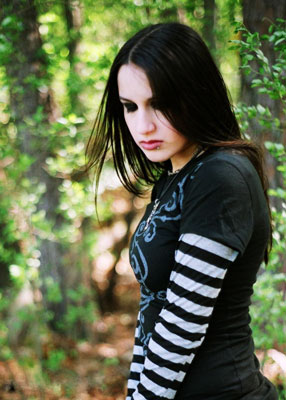 © Anonymous