Under Pressure
MAG
October 16, 2009
The higher they get, the higher they rise. They all smoke to be cool and to socialize. Some call it a drug and some call it a delicacy, but whatever you call it, it's still just marijuana to me.

"Yo, I just bought some granddaddy kush. Wanna smoke it after school?" The question was posed for a general response. I was the minority, the only one who didn't smoke. Immediately the conversation turned to drugs, so I just stared and ignored every word spoken.

Growing up with a dad who's an NYPD lieutenant and a mother who's an assistant principal, I was brought up to believe all drugs were bad and anyone who did them was bad. I've learned to "de-friend" acquaintances who do them in order to avoid negative influences.

At first I thought it was just a phase. I have been invited to "chill" and play handball. I know something is wrong when my friends gather in a circle. They take out the paper and fill it with marijuana. They light it and watch as the flame slowly erodes the blunt.

"Yo, Brian, you want some, bro? You should try it."

I grow silent and pretend not to hear. They know I haven't and won't, so why do they continue to offer? I mean, I'm their friend, and I'm the only one who doesn't smoke. Can't they just do me a favor and stop smoking and talking about getting high around me?

My friends chuckle when I say this. They are so high their eyes are consumed with red.

"Yo, if you're going to be like that, just go. I don't need you. I have other friends," Mark says. It's clear I'm not welcome.

It's not until September that it gets out of control. Everyone I've ever talked to has become enslaved by marijuana. In each class, I segregate myself. I don't want to hear their nonsense about whom they sold to or what they smoked. I try to ignore it. At times when I enter a room, they cease talking and mutter, "Shh … Brian is coming."

In chemistry, I find out one of my best friends has been doing drugs. He tells the class he doesn't know what's so bad about smoking pot and admits to having done it on several occasions. I am so disappointed and upset. He has been lying to me for so long, promising he would never do drugs. Instead of confronting him, I choose to just ignore him.

Since then he has asked mutual friends why I'm angry at him, but he never receives an honest answer. Along with being disappointed that he's done drugs, I'm upset that he chose to hide it and lie.

Even though I have chosen to lose friends because of drugs, it has taken a major toll on me. Being the odd one out or the minority leads people to judge me. I'm the only one of my friends who isn't into drugs. Whenever people find out that I hate drugs, they ignore me and don't accept me. Everyone should be allowed their opinion, and this is mine. It's my choice to stay sober. If the consequences are having fewer friends, being judged, and not being accepted, I'd still rather be sober than popular and addicted to drugs.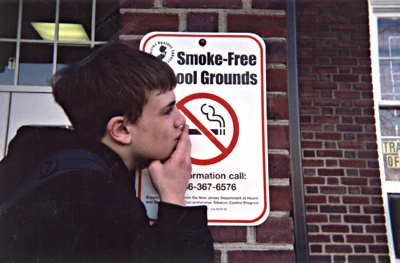 © Anonymous