The Secret Dangers of Cell Phone Usage
November 27, 2009
Did you know? About 60,000 to 70,000 cell phones are sold every day in the United States. Over 1 billion people worldwide own or use cell phones. Every day, the majority of us use a cell phone. We love those things; they make our lives easier, faster, and more fun. However, cell phones are not risk-free.
Using a cell phone triggers the production of EMR, or electromagnetic radiation, which is a dangerous sort of energy wave produced by many modern appliances which surround us in our everyday lives. The worst producers of EMR are cell phones. People who use cell phones often are more likely to have attention span disorders such as ADD and ADHD, one study finds. The same study discovered that using cell phones a lot is linked to the causes of depression. A commonly found result of cell phones usage is difficulty sleeping.
These problems, while certainly not unimportant, pale in contrast to some of the other horrors that EMR can cause – genetic diseases. The worst of all problems that are associated with cell phone use, these problems include immune system deficiencies, childhood and adult leukemia, eye cancer, brain tumors, and other genetic disasters.
Children and teenagers ages 8-16 are even more likely to experience health problems and diseases like the ones above. Thinner and smaller skulls make it much easier for radio waves to permeate the bone, and slim bone structures more easily absorb the radio waves, trapping them. However, this should not by any means be understood as "people over 16 are at no risk of developing health problems". Anyone who uses a cell phone is at risk. Only using the phone for a short period of time doesn't help – the radio waves are dispatched within seconds. The only 100% proven way to decrease the chance of contracting a disease from EMR is not to use cell phones at all.
Although most of us are not going to completely stop using our cell phones, it is a good idea to do what you can to decrease the effect that the EMR waves have on you and the people around you. For one, you can try not to hold the phone next to your ear when you talk. Instead, put the phone on speaker and hold it farther away from your head. This way, when the waves hit you they aren't as strong as when they've only been traveling for a couple of centimeters. You can also stop using your cell phone when you're in a small room. If you are outside, the radio waves that the cell phone emits won't rebound. Also, do away with wired headsets. Although they are useful, the electric current moving through the wire attracts even more radio waves from other EMR-emitting devices nearby. Don't use your cell phone as a wake-up alarm because the whole night it will be emitting EMR waves throughout your room. Not only is this a serious health issue, but it will also make it harder to get to sleep, stay asleep, and wake up in the morning.
Lots of other devices emit EMR radio waves, like microwaves, laptops, and radio towers, but these aren't nearly as bad as the worst offender – cell phones. You can't change everybody, but even implementing a few of these ideas can decrease your exposure to EMR and therefore decrease your chances of contracting the diseases and deficiencies.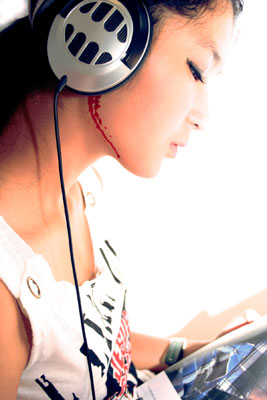 © Jiani L., Toronto, ON, Canada