Her Smile
August 4, 2017
Her smile was made up of all of the lies she had ever told. 
The I'm okay. 
The I'm just tired. 
The Oh, don't worry about it. 
The I'll be fine. 
They were lies. Inside, she was falling apart. Those words they had left her on her social media walls had sent her spiralling out of control; she was falling deeper into the tortures of her own mind. Why? All because of them. 
Their words stung like jellyfishes. Their actions hurt worse. Their laughter rang in her ears like a bad song on repeat. Their grips left bruises, not only on her arms, but on her heart. 
You're stupid! 
What's wrong with you?
Get a life! 
Freak! 
Why can't you do better? 
Their comments stuck inside of her head as she transitioned classes, walking from her locker to the next doorway. She found her seat quickly and set her head on her desk, covering it with her arms in fear of someone attacking her.
The teachers never noticed and if they did, they didn't care. Her friends didn't think anything of it; they thought she was only being overdramatic about the entire situation. And her parents? Well, they hadn't known. She was too afraid to tell them. 
When someone asked if she was doing okay, she would fake a smile and repeat the same lie she had rehearsed that very morning: Yeah, I'm fine. I'm just tired, that's all. 
They'd go about their day. She couldn't. 
She wanted to let go of everything they had said to her. She wanted to forget the posts on social media they had put about her and the texts messages they had left her. But, she couldn't. She couldn't let go of their harsh words and comments. 
What they didn't realize is that all she wanted to be was normal. Or, at least her definition of the word. She wanted to be like them; she wanted to dress fancily, flipping her hair back and strutting away from the boys like she had curves. 
Instead, she chewed on her fingernails in the corners and snuck quick glances at her crushes, trying to hide her small frame behind another person or an object - whatever was near her. She didn't have the curves; she was thin. She was the 'skinny' that so many girls craved. Yet, it wasn't good enough. She was told she was 'too skinny' and that she looked 'anorexic' when she was neither of those things. 
She was tired of never being good enough. She was tired of feeling like she was either too fat or too skinny - she couldn't be the right amount like every other girl. She ddn't wear designer clothes or wear the Kardashian's makeup. She wore clothes from department stores and makeup she picked up from the dollar store. 
She would never be like them, no matter how hard she tried. She would always be the outcast. The shy girl at the back of the class. The smart girl who didn't show herself. The girl who asked for the problems she received. 
No one ever realizes how much a smile can hide behind it until they're in the same position. They'll never know how much pain is behind a simple, beautiful smile. 
Behind her smile was a world that no one but her knew about. Behind her smile was nothing but depression and dark thoughts. Behind her smile lived every lie she told. And with those simple lies, she stitched together her fake smiles. 
Her smile was once genuine, but those words, actions, and posts had crawled under her skins, harvesting in her veins so that every breath she took and every time her heart pumped more blood, her brain was reminded of how worthless they made her feel and how she would never live up to their expectations. 
Her smile, once genuine, had turned dark and sour - a place she was once unfamiliar with and now lived amongst. 
Her smile, once beautiful and bright, had turned fake and forced.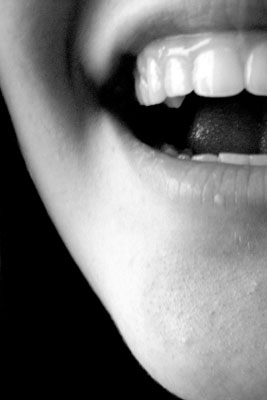 © Katya K.