Stolen
July 19, 2011
The clouds, illuminated by the bright moon behind them, make their way across the night sky. Everything is dark, sending a sense of doom through the small town. A demon hiding in their closets, ready to leap out and attack their children.

Everything had been perfect before this night. Such a small town, welcoming visitors like they were a wonderful surprise that had been long awaited. Now they had found a stranger, one who should never have been welcomed into their paradise.

Where was he? Hiding in their homes, the townspeople feel chills run down their backs as they cling to their children. Where is the protection? The police can't help everyone. They are on their own.

A young child had disappeared only the day before, and had turned up in the woods. She was cold, dead as wood. There had been more before her, many more. He had sneaked into people's homes, and taken their sparkling jewel.

He lurks in the woods, searching for the perfect one. And their she is, so young and innocent. Where are her parents? She is all alone, the perfect target.

And he pounces, a sleek black panther in the night, snatching a shining angel from her nest. It's easy, much too easy, but he runs. Runs, carrying his precious cargo on his back, into the dark night.

There is no turning back. Tears stream down her parents cheeks. How had she left the house? They had been watching her, but in vain.

Now to look to the future: where will she turn up? In a stream, the woods, or indeed disappear for ever? Dark days lie ahead, made bright only by the material sun shining in the sky the next morning. There is no sunshine left in their world. She has been stolen.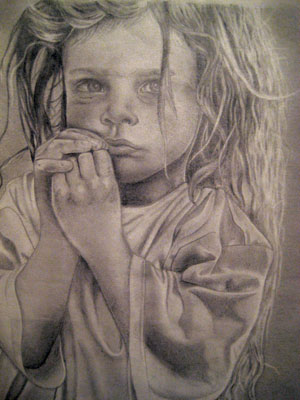 © Katie S., Pearland, TX