Late Night Walk
July 4, 2010
The night wind pierced her bare skin and the darkness enveloped around her. Her dark jet black hair was pulled back in a tight pony tail, she released it hoping it would warm her a little more. On her back she lugged around her camera equipment. The dark alley was small and cold, but it was the quickest way to get home.

She pulled her purple jacket tighter around her upper body and her skinny jeans did no help to warm her legs. Her black classic Converse were surprisingly warming her feet, or maybe it was just because she had been walking for almost two hours non-stop. Who knows.

She heard a squeak on the damp and turned around in fear and terror, she sees a small mouse at her feet and laughs at herself. She reaches into her small purse on her shoulder and pulls out a piece of cheese from her lunch and puts it at her feet. The mouse puts it in his mouth and scampers off. As she is about to turn around she hears rustling not to far back into the alley.

She looks into the darkness, searching for something that would explain it but see nothing but the cold dark whisper like winds of the dark. She turns back around and walks toward a distant street light at the end of the alley. She hears the rustling again and turns, she hears footsteps and turns, running towards the street light.

She was reaching the end of the alley and the street light's beams were flooding around her. She was just to the end of the path when a hand tugged on her shoulder. She screamed and tried to run. It was near two in the morning now and she was terrified to turn around. But a small plea from the person behind her made her turn around as fast as she could. The voice was so familiar, but she couldn't tell who's it was.

When she turned she saw the face of a long lost friend. "Please, help me?" He pleaded holding his side with one hand the other still resting on her shoulder. He looked up from his hand that was clutching his rib cage and up at her face. He stared in disbelief.

She put the hand that was on her shoulder around her shoulders, propping him on her so his weight was shifted. The hand still gripping his side was covered in a deep red liquid and she could see his face was scrapped and dirty. He wore a flannel long sleeve shirt and jeans. His name was Jason Dearia.

They walked to the wall of a near by store and she set him down against it. She removed her coat and wrapped it around his rib area. "God, what happened to you?" She looked up trying to clear the blood as best she could.

"Long story." He winced in pain as she tied a knot with the to sleeves. Her short sleeve t-shirt was white and thin and the wind sliced at her skin. She turned and grabbed her purse reaching for her cell phone and pulled it out.

He grabbed her hands and closed it. "Please." He took another deep breath from the pain. "Don't, I can't explain all this to the cops." He looked up at her with pleading eyes, and she shut her phone shoving it back into her purse.

"You can't just bleed to death sitting here, Jason." She said readjusting the coat so that the last bit of spilling blood would be soaked up.

"How did you know my name?" He looked into her eyes. He looked no different, but her hair used to be blonde and she wore glasses, she used to be a high school student. She wasn't anymore.

"I'm Cam, Cam James? Remember me?" He looked up from his wound at her in disbelief. His best friend from high school, five years later sitting in front of him, not possible.

"Cam?" He smiled so much it hurt to look at him. "Where have you been hiding for so long." He reached for his wound as it stung.

She grabbed his other hand and shifted the jacket one more time. "You really need to get to the hospital." She helped him up off the ground and grabbed her bags of equipment. Throwing his arm over her shoulder again. He didn't fight her this time, it hurt to much.

"Come on, my cars right around the corner, here." She sat him down against a light post. "Wait here, I'll drive the car up here."

He stood on his own holding his side. "Look I can't be out here alone right now, I can make it around the corner." She grabbed his hand and balanced him.

"You've always been stubborn." She laughed and they started walking towards the corner.

"So why are you out here so late with all that equipment anyway?" He laughed motioning to her large bags.

"I was taking some late night pictures and got a little side track. I walked a little farther than I planned." She laughed. "About three miles farther." She smiled looking down.

"So you never gave up on that photographer dream of yours?" He laughed with her.

"Nope, and it's working out pretty well." She smiled lifting her chin and laughing. "So, what have you been doing?"

"Working at the book store on 2nd part time and writing." He laughed. That had been their ideas during senior year he would write a bestselling book and she would rocket to the top of photography.

"So what are you..." He fell to the ground mid-sentence. "Oh my gosh." She leaned down and grabbed his hand and pulled him to the side. She reached in her purse and dialed 911.

"Please, don't I..."

"You're gonna die, stop." She looked at him, wondering what was so important that she not call the ambulance. "I need an ambulance, I'm on the corner of Straight Arrow and 22nd. Please hurry, he's bleeding really bad." She hung up the phone and ripped a piece of her shirt to use to stop the bleeding, it was no use. The blood was gushing now.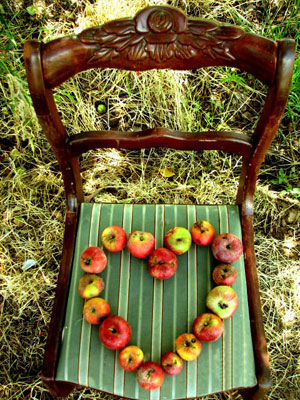 © LZ A., Grand Junction, CO