Flying or falling
August 12, 2013
I often find myself wandering what would make me truly happy. What would lift some of this burden off of my shoulders? What would cause the air to finally flow freely to my lungs? Then I find my eyes turning to view the scenes above me, and I imagine myself taking to the sky.
I long to leave the ground behind, and to defy the very basis of gravity. I would soar among clouds, and touch them with my own two hands. I would see for myself that they are not solid peices of the sky, I would feel their mist slipping through my fingers. I would make the sky my home. The wind my walls, the clouds my towers, the birds my companions.
I would breathe easily there, because nothing from the ground below would matter in my castle in the sky. I would rise with the sun, bright and glorious. If you were to see me soaring high above, you would think it was merely a trick of the eye, you would believe your imagination was running away with you. Your disbelief will be your ruin. For those that see me, and believe in the possibilty of me and my castle, will join me in the wild blue yonder.
We will not be slaves to gravity like the rest of civilization. We will not have to accept the limitation of metal and motor. We may travel where we like, our own bodies vessels of transportation. Imagine the possibilites. Think of all the opportunities that a life without limitations would present. A life without the bondage of being merely human.
We would go further and farther than the rest of the world. We would live more in a day than most live in their whole lives. We'd dance upon the pyramids, soar above the planes, and explore the expanses of the seas. And all the while, wonder how we were ever merely people, trapped in our own skin.
These are the beautiful dreams I hold onto when I can't handle the weight of living. It's a lovely, haunting sort of dream. Yet, life is much heavier after I wake from it, then before I entered. For when I wake, I have to face the fact that I was never really flying, but falling.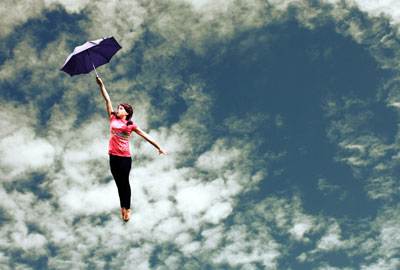 © Sandy H.