The Beginning...
April 24, 2011
"And that's 10 points for me!!" Mum yells out.
"No Way!!" I say counting the scrabble pieces on the board, laughing. Dad was working hard again on his work papers. "Dad, why don't you join us? It would be so much more fun!" He looks up at me and smiles,
"Ok Kiddo." Dad hops off the couch and joins us on the floor, a twinkle in his eyes. I thought that that twinkle would be of pleasure, but it was fear.
"Dad…?" I ask worried.
"Yea?" He smiles at me. "Everything alright?"
"Um… Yea, you?" I ask him, concerned.
"Peachy." He nearly got me with that amazing, fatherly smile. But I saw the look in his eyes, still full of fear.
"Great" I say, going along with whatever was going on. "I'm gonna get the Ice-cream, 'kay?"
"Yum, how bout the double chocolate with choc chips?" Mum replies eager for ice-cream.
"On it!" I jump up and head to the kitchen. I still couldn't shake the weariness out of me from the look in dad's eyes. I had only seen him have that look the night before Granma passed away. And that made me wonder what was REALLY going on.
Reaching into the un-necessarily, oversized freezer I grab the double chocolate, choc chip ice-cream, and then head over to grab three spoons.
At first I thought it was my own eyes, playing stupid tricks on me again. But then the whole house went pitch black. I scream… Well I try to. But it didn't come out because someone else screamed for me. I knew that scream. That was my mum!
"MUM!!" I scream out to the pitch black house. "DAD, answer me!!" I navigate myself away from the kitchen into the lounge-room, ice-cream still in hand. "Mum? Dad?" I whisper.
In the corner of my eye I see something cross the window. I knew it wasn't my eyes playing tricks on me, this time. No Way. The front door slams and I jump. "MUM!! DAD!!" I scream it out now. I was scared. "SOMEONE?!" I wasn't scared anymore. I was petrified.
I walk, alone, to go get a candle from the kitchen. Dad had trained me to move around the house in pitch black. I thought it was silly back then, when he put a blindfold over my eyes and tell me where to go. But now I was grateful.
I grab the largest candle that we had and light it with a match. As soon as I see the orange-gold light from the warm candle I start to relax and think things through. I look up into the kitchen. And Scream, loud. The shadows surround me, in a circle. I scream again. And again, and again, and again. And just like that, the world went black.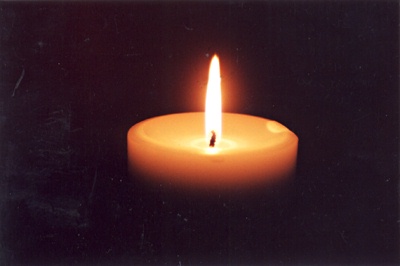 © Ashley D., Philadelphia, PA