The Vampire's Curse
October 17, 2009
Things always happen for a reason, right? Sometimes that reason is not always clear at the time, but there must be one for everything that happens. I am wondering what the reason is for him coming into my life. Well, "him" or "it" would both be good words to describe him/it. He is not a normal eighteen-year-old guy. He is a vampire.

It was just an ordinary day in my town. Rainy, just the way I liked it. I was driving to my best friend's house. I probably could have walked there, but i needed to see him quickly. The reason: he analyzes my dreams.

Jamie has always asked me what I had dreamed about the night before. My answers are usually Robert Pattinson or me becoming a famous writer.

The dream I had last night, though, was different.

I pulled into his driveway and I saw the front door open. He was walking out, smiling.

"What now?" he asked playfully.

"I'm freaking out, Jamie," I told him. "I had this really, really weird dream, and it's freakin' me out."

"Oh, calm down," he said. "Come on." He motioned for me to follow him towards the park.

I followed.

"So what was your dream about?" he asked.

I sighed. "Well it started out cool. I was sitting on my couch next to some goth-looking guy. We were talking about music, and then he said, 'I have just claimed you.'" I mimicked in a low voice.

"Okay, if this turns into some dirty dream of yours..." he trailed off making a face. He was obviously kidding.

"Can I please finish?" I asked impatiently.

"Continue," he said, going to sit on a swing.

"Okay, so we were on the couch, and he said that, and then he came closer to me and..." I trailed off.

"And...?" Jamie asked.

"I forget."

"And how was that freaky?"

"Because I keeps seeing him," I said. "Every time I look out my window, I see him standing there, with this wicked grin on his face. And he had fangs."

"Huh." was all Jamie said.

I waited for him to finish thinking about it.

"Okay," he said after a minute. "I think it was just a freak-thing. I don't really know if there is a meaning to it."

That was a first.

"Don't get freaked about it. I think your mind is just playing tricks on you." he told me.

"Yeah, well, I am known to be an idiot sometimes," I said smiling.

"You got that rite."

We sat on the swings for a few more minutes. It was raining, but we really didn't care. Well, I didn't, at least. I don't know about him.

I was looking around the park, when I saw him again. He was standing on top of the dug-out that was off to the side of the baseball diamond. He was holding something shiny in his hand, dangling it in front of his face.

It was the necklace my grandma had given me before she died.

I gasped. Jamie turned his head to where I was looking, but by then he was gone.

"What?" he asked. There was a worried look on his face.

"I saw him again."

He was laughing at me. "You got me. I actually thought something was wrong!"

I tried to smile. "Yeah. Got ya."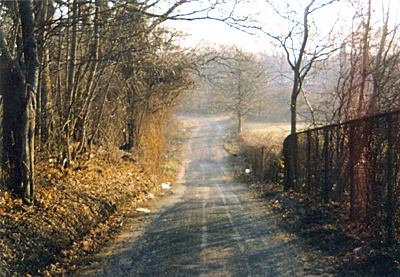 © Cameron C., Milford, CT