June's Unexpected Surprise
December 9, 2008
Right around nine o'clock in the morning June poured herself a cup of coffee and wrapped her self in a fleece blanket on the couch and turned on the TV. Sunday morning no work and nothing to do, the door bell rang. June got up and answered the door to her apartment and a man in a suit handed her a letter that had a postage stamp from the war on the front of the envelope. June was in shock and didn't have any idea who would be writing her. She closed her door and went back on the couch. She opened the letter and tears suddenly fell from her eyes and down her cheek.
Dear June,
I'm sure you remember me it's been a while how have you been? I thought of you today. We haven't spoken in almost five years now. Its crazy how everything is changing right before our eyes and we don't really notice and when we look back on everything, so much has changed. June I wrote you this letter to tell you something.
The telephone started to ring June got up to answer it.
"Hello" said June.
"June Hi, its Natalie Anderson from high school".
"Do you remember me?
"Oh hey, how have you been?
"I've been good, I called to let you know we are having a five year reunion with our graduating class on the 23rd of this month and was wondering if you could make it? The reunion will be at 3pm at the guest house in castle ridge.
"Ok I'll be there, have a wonderful day Natalie."
June Hung up the telephone and went back over to the couch and started to read the letter where she left off.
June I wrote you this letter to tell you something. We were like a fairy tale but with no happy ending. You and I spent some of the most astonishing nights together. I'm sure you remember, everything was magical or at least that's what it seemed. The feeling of your warm, soft touch when you would gently moved your hand down my cheeks as if you were trying to remember me or something. The smell of cinnamon was in the warm air. Christmas lights were all around and we new we had fallen in love. I'm sorry everything changed and it was hard to move on and nothing was like it used to be. I still remember the simple poem you wrote me almost like you wrote it on my heart like a permanent tattoo.
"Just follow your heart and everything will be Ok.
Meet me by my locker at the end of today.
If your heart chooses me
I will make you as happy as can be.
I love you always and forever your best friend.
I'm sorry I made you wait I was young and stupid and I made you feel like I was coming back which probably hurt you even more. I'm coming home from this war in two weeks and once I'm home I don't have to go back. I want to see you; June I would do this in person but I can't. Will you marry me June? My heart chooses you I'm sorry I'm late but will you marry me? You have till the reunion to decide I'll be there. I love you June and that's a promise remember promises are forever and I will forever love you just like I promised.

June closed the letter and turned off the television. She was sitting on the couch and memories off the two of them took over her mind. Way back in eighth grade, before texting and cell phones, that's when they met. She remembers slowly falling in love with him more and more. She has loved him her whole life. She knows what she wants and Johnny will find out soon.

Two weeks went by and the reunion was finally here. June had been getting ready all morning. She put simple black dress on and strapped her high heels. She threw her hair up in a messy bun just the way Johnny liked it. She slipped on her coat and grabbed her purse and keys and walked out the front door. June got in her car and drove to the location. June had finally arrived she was so nervous her palms were sweaty and she felt like she was losing her mind. She couldn't wait to finally see Johnny again. She got out of her car and walked to the guest house where there were all meeting. She walked in the door and like magic there he was standing there in his uniform with a perfect smile on his face, with his brown eyes and brown hair. Their eyes met each others and June fell back in love instantly. She headed toward him and gave him a huge hug and told him yes. She said she would marry him and love him forever just like she had promised years ago.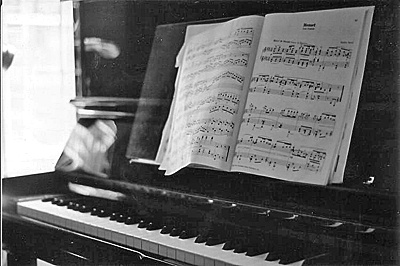 © Anonymous