Frozen
August 21, 2014
The soft daylight streams in through the sheer beige curtain and pours into his heavy porcelain mug. The faint but unmistakable scent of coffee lingers in the air long after he has left. I eye the vintage radio on the tabletop that sports round water marks left by his lack of coasters. The sterile wall clock claims to be ten o'clock, and I'm suppressing my urge to correct the time. It runs ten minutes slow. I sit with his forgotten bunch of keys, waiting for him to come back. The driveway curves away from our house, but I cannot see it from here.
Meanwhile, I gaze around the room and find a sky blue shirt hanging from the coat hanger. It stands by his large plasma screen that stares back at me in all its vapid blackness. If I squint really hard, I can see a long strand of light brown streak down the back of his shirt. A tinge of jealousy stirs in my stomach, and I try to objectively focus on the color of the hair. Is it actually light brown? Does she color her hair? Or, is it just the sunlight that's playing tricks on my eyes? Maybe she has dark brown hair like mine. I imagine his veteran hands sail down her burnished locks, tugging and stroking in moderation.
A gentle breeze rustles the synthetic leaves of the tropical plant beside me. He has had no time for the living, breathing flowers. He has no time to catch the wilting petals. No time to clean up the mess they make.
The clinking reveille of the door chime reaches my awaiting ears, and I straighten up, tucking the loose strands of hair behind my ears. I can already feel the air stir in his wake as if the cool metallic interior of the house itself is holding its breath to accommodate its master upon his arrival. I can hear his steady footsteps, and I smile that dimpled smile of mine, which I know he finds very irresistible.
The polished black shoes approach me, and my heart skips a beat as a rogue strand of hair decides to fall over my right eye. But my smile hasn't faltered. I just keep still and look up at him, while he returns none of my smile. His wrinkled but sturdy hand grabs the keys, and I smile at him just like I always do. All day. Every day. He pauses in his tracks to spare a look at me. At last! A subtle shade of melancholy washes over his handsome age-hardened features as he picks me up by my sleek photo frame and looks into my frozen youthful eyes.
I see the corners of his stoic lips twitch as he looks away into the bright light gushing out of the window frame. But I can't hold him. I can't make him better. I can do nothing about the void that separates our two worlds.
He puts me down and walks away, and I keep smiling at him.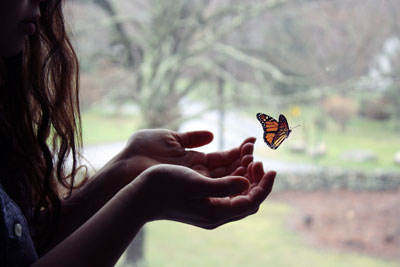 © Sandy H., Woodbridge, CT