The Long Goodbye
January 26, 2014
The chair crashes to the floor. The phone skids across the tile. The bookcase topples to the ground. The kitchen lays in disarray. The bedroom is torn to shreds. Maria stands in the middle of the destruction, her thoughts a tornado wreaking havoc on her insides, as her body moves to ruin everything that reminds her of him. Everything except his dog tags. Those she will bury, for she doesn't have a body. The body was burned... scorched and singed. She never wanted him to go, but he was never one to listen.

They were standing stoically, Maria's face contorted with pain. Her husband stood beside her with nothing but their hands touching. Eventually it was Jeff's turn to board the plane, to join his fellow troops and leave his wife.
"Promise me you'll write." Maria's voice wavered, tears tearing rivers of rage against her flushed cheeks.
"I promise." Jeff replied, a single tear catching on his bottom row of lashes. "I love you."
"You can go now. I'll be okay." Maria tilted her head up in a futile attempt to not look heartbroken.
This got a chuckle out of Jeff but he didn't turn to join his troops. "I really do love you." His voice was so thick with emotion that Maria was surprised it didn't choke him on the way out.
"Jeff, you need to go." Maria's eyes closed slowly as if her sadness had exhausted her and she was now very sleepy.
Jeff turned to board his plane. The plane that would carry his body all the way across the world. The plane that would never carry him back.
The second before Jeff was ushered onto the plane his gaze landed on Maria and a silent whisper of a promise broke. Maria knew he would never write. The war wouldn't let him.

Maria's tears splash onto her cheeks, and her body slowly collapses, like paper crumbling in on itself. Her heart is ravaged by grief and the cool metal of Jeff's dog tags slip form her grasp. They clatter to the floor:; and Maria closely follows.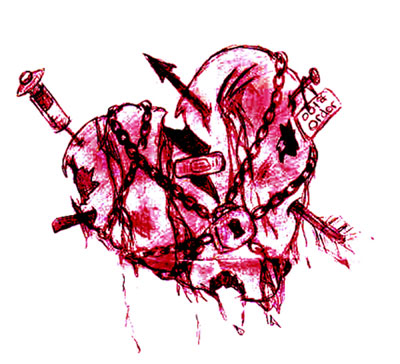 © Asia B., Hudson, MA