Please, Just Listen
February 3, 2013
"Please, just listen." Your chocolate brown eyes begged me to understand. I almost understood too, but I was supposed to be angry with you. And your voice cracked.
"There's nothing to listen to. Just go away." I couldn't hold the tears in much longer and I didn't want you to see me cry.
You searched my eyes one last time, looking for some kind of sign of love. I forced hate in my eyes instead.
You must not have seen past my angry facade and you nodded. You kissed me one last time on the cheek, a thing I miss now. You started to cry and you turned away. We were officially no longer proof of love.
You must have forgotten there was a sidewalk, or maybe you couldn't see it through your tears because you left the park on the street.
I turned to walk towards the swings. The blue sky had faded grey during our fight and tears from the sky fell on my head.
In a matter of seconds, I heard a frightening bang. When I turned around, you were lying dead on the asphalt with a Mercedes Benz in front of your body.
Before I could let out an ear-splitting, blood- curdling scream, and I did eventually, I fell to the ground in front of the swings and cried out "No!"
You were gone, dead. I was the reason you became a part of a different world, a reason for pain, and a school memorial that we fund-raised through car washes and bake sells.
A year later, I lie here on your grave while you and the sky cry rain on me. I am drenched in your dead pain, but I don't care because if this thunderstorm is made up of your tears, then its a part of you. I beg for your forgiveness. I keep calling you "love", hoping to hear your cracking voice give me a second chance to just listen and turn back time.
Eventually the rain subsides and it's late. I say, "Forgive me, love, but I'm, listening now," one last time before lightning strikes me and I, too am dead.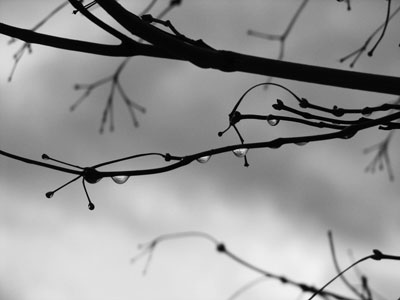 © Carly M., Hopedale, MA