Sheer Simplicity
January 1, 2013
I had always loved cloudy days, especially when it rained later in the afternoon. There was something relaxing about the way the gray blanket of clouds harmonized and blended with the dark forest evergreen treetops. He had never particularly enjoyed them, but that was because his rainy day experiences often involved tarp-sheltered bivouacs (camping trips with the Civil Air Patrol, so he informed me). But sitting here on the sticky-sanded beach of toxic Lake Erie at sunset, hand in hand, the mackerel scale clouds didn't seem to bother him.

A smile crossed his lips. God, did those chocolate eyes just melt my heart. They were so open and trusting, betraying his ordinary facade of strength and solitude. Moments like these were pure cotton-candy-sugar perfection.

"I love you, Princess," he whispered. Maybe I wasn't really royalty, but he sure made me feel like it. It was almost as if my life were a romance movie. He almost always knew exactly what to do or say to make everything perfect. The sheer simplicity that was perfection sometimes made me feel fragile. I couldn't bear to lose this. I didn't respond to him, only sighed and leaned my head on his shoulder.

"Are you okay, sweetheart?" I looked into those eyes again. Of course I was okay. There was nowhere else I'd rather be.

"I am perfect. One hundred percent." Sometimes that thick military head of his didn't comprehend my emotions, but he knew math for sure. I was sure to add, "I love you, too." I really did.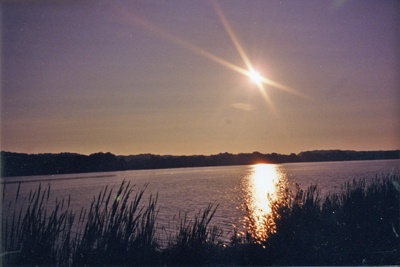 © Gabrielle C., Struthers, OH