Are You Gonna Kiss Me or Not?
June 6, 2011
"I love it up here," Jesi said, spinning around in a careful circle and her green eyes sparkling with excitement.. She had taken her boyfriend Hayden up to her parent's roof, and they were talking quietly about everything. The light of the moon illuminated everything, and Hayden could only think how beautiful she looked, especially with her long brown hair falling in her eyes. He put his arm loosely around her and tried to muster up the courage to make the next move. Jesi blushed and looked down in his scrutiny, and continued their game of Truth. "What's your favorite band?" She asked, trying to get the courage to ask something more personal.

"Rise Against," He said, sounding a little preoccupied. He pulled her slightly closer, putting his head against hers lightly. He was so shy, and he cursed it as they sat there. But she was too. That's probably why he was so surprised with what she said next, smiling.

"Are you gonna kiss me or not?" She said expectantly, staring him in his dark blue eyes. He pulled his head back a bit, caught off guard. "We gonna do this or what? I think you know that I like you a lot, and honestly, you're about to miss your shot. Are you gonna kiss me or not?"

Hayden smiled and kissed her gently, barely brushing his lips against hers. Jesi laughed, sitting back on her hands. Hayden put his arm behind her back and stared into her eyes, and then kissed her again, this time more deeply. After he pulled away, she said, "Finally."

**One Year Later**

Hayden led Jesi by the hand into the center of the park, to a grove of trees. It was December, and snowing gently. Ever since their first kiss, he knew that he wanted to make her his. He bought the engagement ring, and got permission from her father. Once they got to the grove, he made her close her eyes as he knelt. She was shocked to see him on bended knee, with a ring in his hand.

"Jessica Lyn Byer, I have loved you since the first time we kissed. Will you do me the honor of being my wife?" He looked so honest and hopeful that Jesi had to smile. She brushed the snow out of his short blonde hair and repeated the words she said that night a year ago:

"Are you gonna kiss me or not?" He took that as a yes as he swung her in his arms and kissed her deeply.

They planned the wedding out to the last detail, from the marble cake to the honeymoon in Paris. June 16 came before they knew it, and Hayden stood nervously at the head of the aisle with the preacher and his best friend. Finally, the wedding march played and Jesi came out, looking beautiful on her father's arm. Her mother cried softly as she walked down the aisle, but Jesi didn't notice. Her eyes were on Hayden as she smiled widely. As the preacher began the ceremony, Hayden leaned down and whispered in her ear, "You look beautiful." Jesi blushed and looked down.

Finally, the preacher man said "Say I do," They both did, and he said "Son kiss your bride." Hayden lifted her veil with shaking hands, and Jesi let a tear of happiness slide down her face, and he said softly, "Are you gonna kiss me or not?" Jesi smiled like she did all that time ago, and sealed her fate with the man she loved.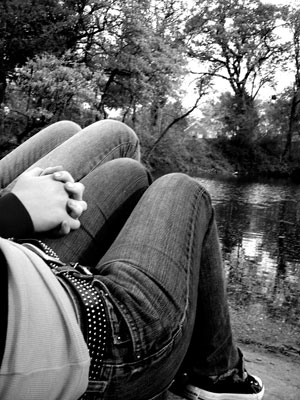 © Lauren R., Edmond, OK