Fireworks.
November 20, 2010
"Prince Charming.. every girl's dream guy. Imagined on white horses and silver volvos; courtesy Edward Cullen. I have my own list-" I broke off, catching the sarcastic expression on his face.
"Hey! I'm a girl too!" I said, defending myself.
"Okay okay.." he replied, holding his hands up in an 'I-surrender' gesture.
"He would be sweet,caring,hot,handsome,kind,nice,funny,witty.. you know the usual. And when I look into his eyes, I would know that he's the one... you know with drums playing in the background-"
"Ahem" he coughed
"What?!" I asked, annoyed
"Drums?" he asked with an amused expression
"Yes, drums!" I replied firmly
"Uh huh" he replied, unconvinced.
"Really!" I said, flinging sand on him.
Covering himself, "I believe you" he replied. "I really do" he added in response to my 'angry' look.
"Anyway.." I said, turning away from him. "Drums in the background and when we kiss, fireworks for both of us" I finished happily.
Getting no reaction, I turned around to look at him and bumped into his 'Homer Simpson's' tee. I looked up to find his brown eyes looking at me intensely.
"Umm.. Dave?" I asked warily, backing away a bit
"You don't find such guys Tay" he replied, catching hold of my arm, pulling me towards him
"What's wrong with you?" I asked " You know Sean is-" I broke off, as he stopped me. "Close your eyes Tay" he said simply. I raised my eyebrow, but closed my eyes. The next thing I knew, his lips were on mine, kissing me urgently. I opened my eyes angrily, and pushed him away. "Ewwww! Dave!! Whatcha do that for?!" I asked, wiping my mouth with the back of my hand. "I-I I really like you Tay and I know you do too" he stuttered. "W.T.H!!! No! I don't! Whatever gave you that extremely stupid idea?!"
"Well, you're always holding my hand, hugging me and all. So I thought... " he trailed off. "You're my best friend Dave!! Don't I have even that right?!" I asked him "You could've asked me first.. you should've talked to me!" "I really love you Tay" he replied, coming towards me his intention clear in his eyes. "Get away! you moron!" I shouted, backing away in full speed now. "No, listen to me Tay" he replied, running.
I ran towards the water, and looked around for help but he caught up with me and dragged me into the water clutching my arm as we went deeper.
"Listen" he said, menacingly
"Ow! You're hurting me Dave! Leggo!!" I replied, struggling to get away from him. I started to hit him on his arms and chest with my free hand in hope of getting free, but he only held on tighter and we were now knee deep into the water. "Leggo you creep!" I shouted, slapping him with me free hand.
This angered him even more, and he slapped me and pushed me into the water. "Ow!" I spluttered as I fell into the cold,chilly water. I heard running footsteps and someone punch Dave in the face and push him also into the water. Splat! Dave landed beside me with a slightly dazed look in his eyes. I looked up and saw Sean offering his hand to me. I took it gratefully and stood up.
"Thanks" I said, avoiding his eyes "You fine?" he asked concern in his voice. "Yeah, just a lil creeped out and cold" I replied, shivering slightly. "Awww, here I can cure that" he said, wrapping his strong arms around me. "Ummm.." I sighed, snuggling into his arms. "You're the best boyfriend ever!"
"I love you Tay" he whispered. I looked up into his brown eyes, and knew that he meant it. "Thanks for being there for me" I whispered back. "I'm always there for you, love" he replied, leaning down to kiss me.
"Fireworks?" I asked, as we broke away.
"Everytime baby, everytime" he replied, smiling that lovely dimpled smile.
Screw you Dave! Prince Charming does exist.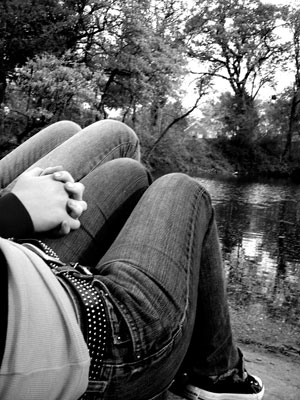 © Lauren R., Edmond, OK