Cliche Love Story
November 6, 2010
His name was Sam, and ours was the most cliched love story ever; thankfully with a happy ending.
We met during lunch when I accidentally dropped yoghurt all over his pants. He retaliated by pouring coke over my head.We started laughing at each other, and the stunned expressions of our friends.
"Hi! I'm Sam" he said, extending a hand.
"Kiara" I replied, meeting his hand.
Well, its not like sparks shot through my body as mine met his, but there definitely wass a tingly kinda feeling.
In about 2 years, we became best friends and were inseperable and forever hooking each other up with our various 'acquaintances'. Needless to say, none of them worked out, we often wondered why and spent time sitting on the beach on Saturday nights waiting for the perfect guy/girl to come along.
It was one of these particular Saturday nights, I was at home planning to catch a movie and was just popping a bowl of microwave when the doorbell rang. It was Sam and he wass supposed to be out with Ms.Snooty a.k.a Tania.
"Sup?" I asked him.
He looked up with a I'm-not-sure look on his face.
"Have you ever had any other feelings about me K?" he asked.
Weird question.
"Yeah Sam, I love you so much. Thank God I'm able to tell you this" I replied sarcastically.
"I'm serious Kiara" he replied, frowning.
Kiara, he never used my full name unless he was really serious.
"Never really thought about it" I replied.
"Well, think then!"
"What?! Now? Why?" I askeed, confused. What was wrong with him?
"No K, after I'm dead.. obviously now!!" he replied, frowning some more.
"Okay frown-face"
And then I thought, did I have any 'other' feelings towards Sam?
I recollected all my past dates with various guys.. Dave, Jake,Benjamin, Archie.. I had compared all of them to Sam, thinking Sam would've understood this, Sam would've said this, etc.
I looked back at him now, noticed how his brown hair was all ruffled and windswept, his hazel eyes clouded with hope,doubt and for the first time love. Wait, does this mean I love him? Is this love? Where were all those sparks and fireworks when you realised who your love was?
"K? K!!!" his voice brought back me to the present.
"Maybe.." I replied answering his previous question.
"Then let's be ruddy sure " he growled, as he took me into his strong arms and roughly pressed his lips to mine.
.
.
.
.
.
.
.
.
.
.
.
.
Breaking away the kiss, for some air; I looked into his eyes realising that I really did love him.
"well?" he asked his lips, close to mine.
"For sure!" I replied, breathlessly.
He smiled and bent his lips down to mine, gently this time.
I opened my eyes mid-way and
Sparks.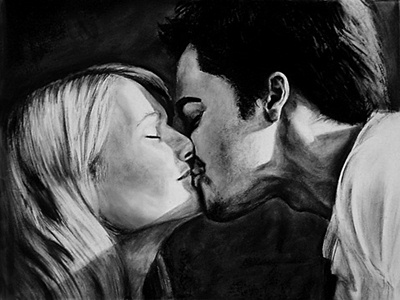 © Lauren R., Marshfield, MA