Nightmare
October 17, 2010
The last thing I remember from that horrible day is falling asleep with a broken heart. I slept in darkness that surrounded me with a velvet feel, until I heard a soft, singing voice call my name.
"Gracie. Gracie darling. Wake up now Gracie."
I opened my eyes. I was suddenly blinded with intense sunlight. I was laying in the field behind my backyard. As I started to stand up I realized that I was wearing a white, sleeveless, knee length, cotton nightgown. My long blonde hair was pulled back into two flowy braids.

I was extremely sore, and I had new scars running up and down my body, as if a knife had been dragged back and forth, but gently enough not to seriously hurt me. I stood up, and winced as i stretched. I walked up to my back door and went inside. It was extremely quiet. I drank my milk, and looked at the photograph on the refridgerator.

You had left me the day before. It had been an amazing year and seven months in love. But you were depressed and left, because you didn't want to bring me down.
Crying, I walked up the narrow stairs of my old home, and entered my room. I undid my hair, and walked into my large closet. When I did so, you were there. You tore off my dress, and showed me how you did love me, and made a mistake. Then I fell asleep in your beautiful arms, dreaming of those memories we made so Many times so long ago.

When I woke, you were nowhere to be seen. I walked to the back of my closet to put on clothes. The house was still quiet. For the first time since I woke up that morning in the field, I spoke.

"My love, where are you. I need you, love, I do."
I went to exit my closet, and in the nook where I often read during storms, there was a sight in which I screamed.

To my astonishment, you were hanging by a rope, absolutely and 100% dead. There was no note, no explanation. You were gone.

That's when I made my decision. I ran to the bathroom and swallowed as many sleeping pills as I could find. I ran back to the closet, brought you on the floor, and died in your arms.




********************

"Gracie. Gracie, darling. Time to wake up", a soft angelic voice called.
I opened my eyes, blinded with sunlight. My best freind Leah was kneeling over me, in all black. I was laying in a grassy feild. I stood up, heart aching. I was surrounded by stones, and people in black.

We were at my love's burial, because he was found dead in my closet.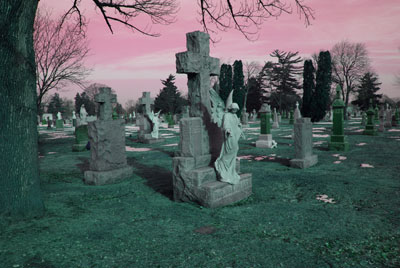 © Lauren M., Avondale, AZ