Soulmate
June 24, 2010
I smiled up at him and he smiled down at me. No words were spoken but we both could read each others thoughts as if they were our own. We belong together, or that's what his face told me. I snuggled into his side, feeling the soft movement of his chest as it rose and fell with each new breath. He began to hum our song, tapping his fingers on my arm and sending chills up my body. He whispered something so soft I barely heard it.
"Kiss me." I looked up into his eyes once again and saw the beautiful color of the ocean in his iris. A smile broke through his lips and his perfect grin made my heart do back flips.
"OK." I leaned forward, keeping my eyes open so I could just stare at his face, his perfect, wonderful face. He did the same and soon we were kissing, a soft tender caress, holding each other close, feeling the goose bumps spread over our skin. And then it was over and my head had found its way back to his chest. He resumed his humming and the whole universe seemed to fall together as my soul mate held me close and the stars lined up in perfect harmony in the sky to make this night one we will always remember.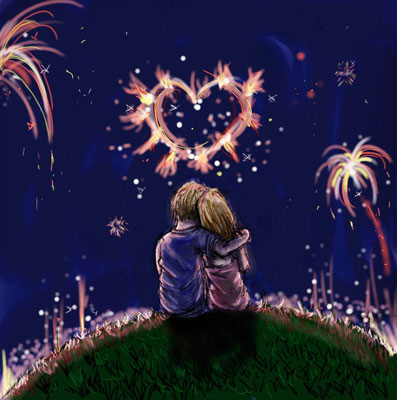 © Carissa G., Aberdeen, WA