Death By Dream
June 19, 2010
I don't want to sleep anymore. It's too hard. Every night, I wake up crying because I am having the same dream over and over again.

James and I are walking in a park, laughing with one another. We have our arms around each other, all lovey dovey style. I know, it sounds perfect. And it is. For a while.

We reach a bench, and go to sit down on it. But, just then, she appears in front of us. James's ex-girlfriend, Jessica. She's got a gun. She points it directly at James, directly at his heart.

"We were supposed to stay together. You weren't supposed to run off with this w***e. If I can't have you, no one can." She says, and fires the gun. The bullet hits him right below the heart, making it a slow and painful death.

"James? James! Look at me! You are not going to leave me! Stay with me! Don't die on me! I love you! Don't leave me! James!' i say, at a sad attempt to keep him alive. I dial 911 and tell them what has happened. They say they will be there shortly, and to keep him talking. He just might survive this. A spark of hope rises within me.

"I love you too, baby girl. I love you, too. This really hurts. But, I'm glad to be the one with the bullet in my chest. As long as you are alright." He says. And the he says something that really scares me. "I'm gonna take a nap for a little bit, okay?" he says.

"No! Not okay! You gotta stay awake! The ambulance is on their way. Just keep talking, and don't go to sleep." I say. In the distance, I hear the sirens from an ambulance. They are getting closer. I can hear James mumbling something, but I can't make it out.

When the ambulance arrives, they lift James into a gurney, and carry him into the back of the truck. They tell me that I couldn't ride in the vehicle, then they drive away. I turn around so I can go to my car and drive to the hospital. Then I see the ground. All the blood makes it look like the Earth is bleeding. It's the saddest thing I have ever seen.

When I get to my car, I drive as fast as I can to the hospital. When I get there, I ask for James. They tell me he died on the surgery table and there was nothing anyone could do.

After that, I always wake up crying. And I always call James, no matter what time it is, to see if he is okay. He has been okay every time I call him, but I have a feeling that that dream is an omen for later. Right now, my life feels like an endless staircase that I have to keep climbing.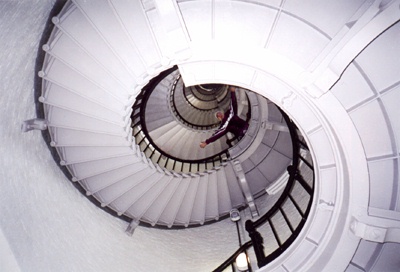 © Andy G., Phoenix, AZ