The shot heard around MY world
June 14, 2010
You know the shot heard around the world? Does anyone know if someone died from that? Was that the last thing someone ever heard? The last thing you and I heard was a shot from your Dad, of all people. Then everything went black.
You were just another kid in a new school, you came off as one of those arrogant guys so full of yourself I was surprised you weren't choking. I was wrong. You were kind but I never thought much more – until the boardwalk.
That night my friend made me go in line for one of those dorky swan rides that everyone called the tunnel of love. She had a boyfriend so then I was stuck going alone. That is until you plopped down next to me. You asked "is this okay?" I said sure but it didn't matter what my answer was, we had already started to move.
We talked back and forth not about anything too important but with more ease than I would have thought possible. You were handsome, and I knew you knew, but still when you called me beautiful I felt the need to say you too. You just laughed though and said thanks. I liked the sound of your laugh. When the ride stopped and we got off I was expecting us to part our separate ways again, but we didn't. You stayed with me.
After that it became clear we had a lot in common. We went bowling and even fishing but I couldn't tell you what our first date was. We didn't have one. Like so many things I know where it ended and the things in the middle but I can't remember the beginning. Suddenly it was just understood, we were together. It could have begun the moment you sat next to me or when you first took my hand. All I know is there you were, surrounding my life in your effortless glow.
We cared for each other but no couple is perfect. We had our share of fights over the many months we dated. Some were dumb, like about your funny haircut? I learned secrets about you, and you about me. Yours were more deadly though. Things you didn't want me to see.
I knew things were rough and when you called that night to cancel the date. The one you were so excited for – to finally say the three magic words – I knew something was up. Maybe I shouldn't have gone to your house; I wouldn't be where I am now. In this hospital, because I fainted when I pulled up and jumped out running when I saw your father near you, holding a gun. I saw you shot dead. I tried to protect you from the hurt and abuse. I loved you and will always love you. But the only thing left to say is I said you should tell.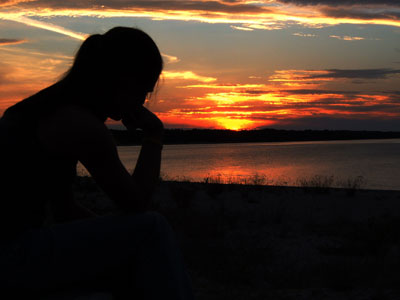 © Hilary L., Rogers City, MI