The Time I Lost My Love
May 17, 2010
Five months ago, I started at a new school. I had met one person there, but this was nothing to me. New schools are old, you know. After a day, I had met enough people to not be alone and I had friends. It still took me a week or two to meet him. My sophomore friend, a girl in Algebra 2 with me, was dating him at the time, and that's all I knew him as. Her boyfriend. I soon figured out that he was much more than that. It had taken me about two days to realize that three of the new people I knew were witches and once I knew him, it didn't take me long to figure out that he was in the loop. A week after I met him, I was caught in the momentum of a spell he had cast. A multi-faceted spell that had one part dedicated to Awakening me. It was painful, horrible, heart-wrenching, and excruciating. It tore me apart and my heart felt like it had been pierced. I started getting feverish and would almost faint one second and be fine the next. I could not stand to be near him. Every time he got close to me, I would start shaking and my fever would get higher. I could barely be in the cafeteria with him. It lasted a week. That weekend, I started truly falling in love with him. I started remembering who he was and who I was. That weekend, he ended that part of his spell. That weekend, I was at peace. The next Monday, I was completely embarrassed. I had avoided him at every turn and yelled at him when he did get near me. Somehow, he made it not a problem at all. On Tuesday, there was a college night and we both went. He sat next to me in the auditorium and drove me home. Before I walked in the door, I said that I was starting to like him.
The next few days went normally. That weekend, a couple of us got together and went to his house. We hung out and I remembered why I wasn't sure about liking him. But the next weekend, that reason was almost completely gone. We had two, wonderful, perfect weeks together. We were dating, he met my parents, and I couldn't get enough of him. Then he told me that he would be leaving. Leaving me to do his duty, but that he would be back as soon as it was finished, and that he would never leave again. I was furious and upset. This was not the first time he had left me. I didn't talk to him for two days.
On October first, we were going to be attending the Supreme Court of Colorado, as they were visiting our school. During the second half of the hearing, his soul buried itself in that body, and for intents and purposes, he was gone. I haven't spoken to him since. I look back, and I wonder if I had talked to him, would he have stayed longer. The soul that took over his body later told me that he was hiding because of my anger. He couldn't waste his energy if he was to get done what he needed to get done. I miss him. I miss him with every fiber of my being and I miss him wholeheartedly. I have one consolation in my misery. It is better to have loved and lost than never to have loved at all.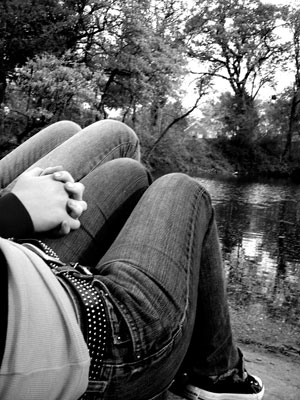 © Lauren R., Edmond, OK