Three Minutes
March 11, 2010
The nice cold breaze comes blowing through my hair. I keep walking until I stop to take off my shoes. Now I am walking in the sand, barefoot. I can hear the waves crashing on the shore, louder and louder as I get nearer. The ocean sound fills my ears and I sit a foot away from where the water comes in. I look up at the sky and watch the sun go down. With the pink and orange surounding the sun, I am just breathless.
The sky now has that sunset after glow. I sit there thinking and recapping today. How was I so stressful in this peaceful envirnment I'm in now. How is it that a couple of hour ago I was sitting in my room crying because of something so stupid, when I could've been sitting here, enjoying the sun. I imagine families coming down here and building sand casltes with each other while laughing and getting tackled into the sand. People jogging or riding their bikes on the path behind me, trying to get a fresh excersize in before they head to work. I on the other hand went to school with a very big smile on my face only for it to turn around by the time I got home.
Three minutes was all it took for him to take my heart. To rip it out of my body and leave my wondering this world without anything or anyone to love. I just have one question for him, why did you do it? You didn't even have to say anything, but it still hurt inside. You may think tomorrow will be okay, but truth be told, no it's not. I have no heart to care for you anymore. As I sit here on the beach staring at this fading after glow I visualize the worst day of my life. Where you took my heart away.
~~~~~
I walk into the halls as confident as I always do. I say hi to almost everyone. They all say hi. I, Samatha Wellington, has a tendency to be the peppy, high spirited, fun to be around girl. I'm not the one who everyone gets annoyed with for being so happy and perky all the time, but the one people get up for in the morning to say something to.
I walk past my main group and talk for awhile before I have to get to class.
After I head to lunch knowing you will be waiting for me. It's been a year since we've started dating and I'm skipping half of my Technology class to go to you early. I walk into the cafitaria and spot you. The only thing I didn't notice is the cute, short blonde girl on your left. She was whispering in your ear and you were laughing. I didn't want to desturb you so I sat down in the corner where I knew you wouldn't look. I sat there for 3 minutes looking at you and this girl whisper into each other's ears and make googly eyes. Then I noticed now would be the time I would normally get out of class. You bid her good day and gave her the lightest peck on the lips. She hugged you and was off.
At that moment my heart was ripped out of my chest. I saw you looking around the room for me curious to where I was. I didn't want to see that gift behind your back or the smile you would puton your face at the sight of me. So I walked away. Down the halls with a frown on my face. Every person I passed turned their heads to wonder why I was sad. I never was sad, except for the day in sophmore year when my first relationship ended. Now a tear rolled down my eyes and I was out of the building with my heart beating in that cafiteria. All it took you was 3 minutes. To end my life as someone who is happy to know no one misses school because they want to be the first to greet me. I'm broken.
~~~~
Tears are strolling down my eyes when a hand touches my back.
"Ali."
I know that voice. The one who stole my heart before. THe one who almost atole the reason for existance. But now I have him back withing 1 minute. You have my heart, but he has my soul. Each a piece of me and I a broken peice of you.
"Kevin."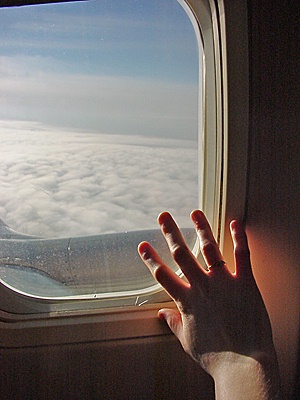 © Greg K., New Lenox, IL