Kissing in the rain.
November 28, 2009
In the rain I walk. There are many different walks. Today I've decided to walk away. My eyes are too dry to cry and more tears, the raindrops land where they would have been. Everything is blurred, not only visibley but my internal feelings as well. My heart feels to sore to beat - if luck would have me it would quit.

I knew I would never be good enough. I told myself over and over from the beginning. I knew I could never be smart enough, I was trying but couldn't be skinny enough, and I could never deserve his love.

I sat down my luggage. The older woman in front of me was scolding her grandaugher because the little girl wouldn't stop coughing. The wrinkled lady pulled out and pressed her oxygen mask against her face for a minute before finishing the lecture.

I looked around at the different people and wondered why they were leaving.I then looked at my watch, the bus should arrive in three minutes. I knocked my knee gently against the bench. It wouldn't have mattered if it would have hurt - I an numb and feel nothing.

I push my long brown hair away from my face. I look at the gravel road that would take me away. Take me away from everything and bring me to nothing. The rain begins to pelt down even harder. Nothing passed my hand can be seen. I knew if my tears could be counted they would equal the amount of the hard rain.

I was never nothing. I tried but found I was living a lie. I wanted him - Oh how I love him. It scared me to be in love with him - I knew no matter what he asked I would do. I didn't trust myself. I saw the bus coming down the long narrow road. I picked up my tote bag and the other small suitcase that held very little. I couldn't imagine putting how much I love him in this - yet I was taking everything away. I windered if he would miss me. This summer had been extraordinary in every single aspect, we had sat on the roof of my condo by the beach and watched the stars wink at us. We sat on the small motor boat out on the clear blue water reflecting the moon, the wind gently whispering to us that like she was telling us that you never see love coming but you can feel it leave and that is okay - because somethings are meant to be - even if it is only for a little while.

I stuck my mouth out against the raindrops. The rain was surprisngly warm, I opened my mouth and closed it again. I kissed the rain like the first and only kiss we had shared last night. That is when I realized I had to go back home and stay with my mom. I couldn't deserve him.

The bus pulled in. I allowed everyone on to get on before me. The blue bus is my worst enemy I thought. I made sure I had everything. Yes my dad would be hurt, he would want me to finish out the last two weeks of our summer. But he would be okay, his new wife Amanda would comfort him and they could focus on the new baby that would be born next month.

I took my last step to the door. I looked down at the step. When I lifted my leg to step up when I heard something muffled. I shook my head to clear the noise.. I heard it again. I turned around see see something running in front of the bus. The bus driver sat up perring through the rain.

"What in God's name?" She fixed her eyebrow while still perring.Than I heard it again.

"Jana no! Stop please!" My name was being hollered. I turned around seeing that the tanned body was running for me now.

"Jerrick?" I stepped away from the bus. He was running even faster now. I could barely see anything other than his tight blue shirt that covered his bulging muscles.

"Jana stop!" He was only a few feet away now. I ran towards him. He grabbed my waist and secured me to himself. I wrapped my arms around him.I wouldn't allow myself to look up at him.

"Jerrick let me go." I blinked away the rain drops. He lifted me chin to look into my eyes.

"Why? You said you loved me?" He pressed his cheek against my cheek.

"I do . . .I - I can't be good enough for you. Your everything that I'm not." Hurt slashed against his face. His bright green eyes looked into mine. I felt as if I was drowning in them.

"Jana . . .please. You can't leave me. I need you. Your everything . . .to me." He held me tighter against himself. He angled my chin upward again. He lowerd his soft lips to mine. At fist he kissed me gently than he allowed the electricity flowing between us to flow fully and freely. His lips crushed against mine. I felt his heart pressed against mine. His heart was beating faster for me and only for me, even if it would be for the night his heart would be mine.

We stood kissing in the rain for what seemed in the dimension where eternity and time collides. It crashed into us like a wave. We welcomed the storm knowing that we were walking on unsafe territory - but like everything else it could last forever. Even if forever is just for now.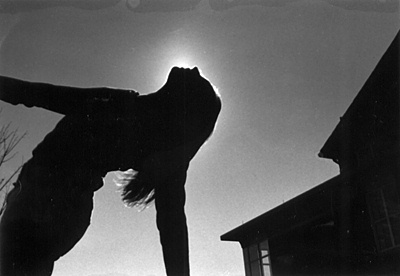 © Alexandra B., Marblehead, MA