Honey Blonde Love
November 2, 2009
I walked down the warm sunny sidewalk. The sun shining down n the little town, bringing a smile to every bodies face. I found myself walking to everyplace someone wasn't smiling and giving them a flower from my basket. My jeans, splattered with paint, made my legs feel hot and tired. My neck was prickled with sweat.
I stopped at my favorite little café and sat a table away from someone I have only dreamed of. His hair was honey blonde, and his eyes hazel. He kept his stare on the book that was in his soft hands. His face kept my gaze on him. I probably looked like an idiot with my mouth open at the sight of him, my eyes started to feel heavy. I looked out to see that the sky was dark; I had been watching him for hours. I drank my now cold coffee and ran out of the café.
I jumped into bed and closed my eyes so I could wake up and go talk to him at the café. I slowly drifted into a soft dream. His hazel eyes watched me carefully before his gaze went back into the sketch book. I tangled my fingers into his honey hair. This was what I wanted. This was it; this was what I wanted all along. I stood up and walked away a little.
"Come away with me." His whispered in my ear.
"What about my home?"
"Leave it and we can travel." I turned and wrapped my arms around him neck
a beeping slowly pulled me out of my sleep. I pulled myself from my bed and pulled out my tulip dress and black tights. I pulled on my dark blue heels and walked out the door to the café.
He sat there; maybe I should talk to him now or wait till I have enough courage. I sat at the table right next to him. I knew what to do I would get up as he put away his book and "accidentally" bump into him, and I have and instantly excuse talking to him.
After a hour I saw him put away his book and I got up and started to walk by him. I walked a little closer than I would normally, then I walked a little fast and bumped into him, not hard but just hard enough.
"Oh, sorry. I wasn't looking where I was going." I said almost sincerely.
"It's okay. You look familiar, do I know you?"
"I'd like to know you." I gave him a flirty smile and he smiled back.
It had been a week since we started to go out; I was madly in love with him. Just the other day we were in the park and he surprised me with a firework show. He was the most romantic man ever.
"He's perfect!" I said to my roommate. She sat at her desk working on some designs. She has a masters in fashion design.
"I think you are going to do something stupid soon to screw it up." She looked me in the eyes, they were a bluish violate and her cheeks were rosy pink. That was the one thing she hated, she thought that since she had rosy cheeks that no one could take her seriously. I disagree, it's the eyes, she has eye's that look almost childlike.
"Why would I do that?" I pouted.
"You fall to fast to hard, it's just you." She turned to look at the computer and clicked on some fashion link for her sales. I got up and walked to the café. He sat there as he did every day, book in hand and muffin on the side.
"Hi, how are you today?" I sat next to him and gave him a kiss on the cheek.
"Better now that you are here." He turned and gave me a deep passionate kiss, my heart pounded in my chest. "There's something I have to tell you."
"What?"
"I'm leaving tomorrow."
"Like on a trip for a week or so?"
"I'm being sent for two years." He gave me a look that said I'm sorry, but I didn't hear him say them.
"Oh," tears started to form in my eyes. "I-I have to go." I got up and walked out of the café. Once I was out I ran home and cried.
It had been three months since he left, he didn't come to say good bye, why? I sat behind my door and let the tears flow. Maybe I just wasn't meant to be happy. Maybe this is
The end.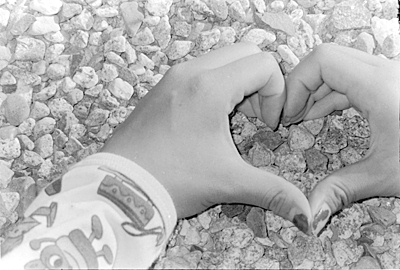 © Caitlin T., Marblehead, MA