Love Never Fails
September 19, 2009
1 Corinthians 13:4-8
Charity suffereth long, and is kind; charity envieth not: charity vaunteth not itself, is not puffed up, doth not behave itself unseemly, seeketh not her own, is not easily provoked, thinketh no evil; rejoiceth not in iniquity, but rejoiceth in the truth; beareth all things, believeth all things, hopeth all things, endureth all things. Charity never faileth…


She fingered the gold heart that hung from the necklace around her neck. A symbol of his promise. She let out her breath slowly, her heart beating wildly. Did she deserve someone so wonderful? Was she good enough for him? She questioned the heart of her beloved every moment, wondering why he would give her a chance, even when he knew everything about her, right down to the most darkest parts of her heart. Even though she had hoped with all of her heart he wouldn't ever know of her past, there had been no getting around it, it was as if from the moment he looked deeply into her eyes, he was able to see her heart for what it truly was. Black. Hidden from the eyes of everyone but him, her heart beat black and ugly, beneath her beautiful white gown.
Will he keep his promise? Will he love me forever like he says? She didn't want to doubt him, didn't want to question his love. But she didn't know if she could ever except his love, not truly, not fully.
Holding up the bouquet of roses, she studied each color, still puzzled at the many roses that he had chosen for her bouquet, and for the special meaning each color held. Red, for when he gave his life to save hers; white, to remind her of his forgiveness; yellow, for his promise of happiness: a white rose with black tips, a reminder that even when things got hard, he would still be there for her, to remind her that if she believed, then the light could always overcome the darkness; and then in the center of them all was a delicate white silk rose that would never fade, but would hold its beauty forever, to remind her each day of each promise.
Tears came to her eyes as she stroked one of the delicate silk flower petals. And then, she buried her face in the sweet scent of the other roses.
"Are you ready, Annalise?"
Turning, she looked into the eyes of her father, his gentle eyes touching her heart. And then she was afraid that she couldn't hold back the tears.
"Oh, daddy…" she whispered.
"My sweet little girl." He drew her to him, holding her close like when she was a little girl afraid of the dark.
"You had been lost to us, Annalise, but he brought you back to our loving arms again, and for that, we could never thank him enough. He gave his life to save you, and we are indebted to him for that, and forever thankful."
Annalise looked up into her father's face. You shouldn't love me so much, daddy. I have done so many wrongs, have made so many mistakes…I want to believe him, want to believe that all those wrongs can be undone…but I just don't know if I can. Oh, daddy, if only you knew…

Annalise had been an only child, and because of that she was showed daily of how much she was loved.  Not a moment went by that her parents didn't show her in some way or another that they loved her, especially her father.  He was always there for her, brushing away a tear or encouraging her to continue on, never failing to give her his undivided attention.  But all of that did not matter, it all began to fade as she grew older, when reality hit her and she realized that life wasn't carefree and all about laughter and smiles. There was a painful and dark part of life that she found difficult to ignore.
When she was sixteen she met a guy that changed her life. When she had first laid eyes on him, she had been taken aback by his seemingly handsome yet daunting features. At first glance she had turned her eyes away quickly, feeling uneasy looking into his dark eyes, they were unsettling, almost haunting.
It was when he started to persuade her with a charm that she couldn't say no to, that she slowly felt herself being pulled unwillingly, at first, from all that she knew. She had slowly faded away until she felt like a dead person, empty and lifeless.
Dressing in black as an outward sign of how she felt on the inside, Annalise followed him and his group as one. She would lookout from behind all the black and hope with all her heart that she could cry out for help to the many onlookers that stood gawking at their group, but she couldn't, she was a prisoner, held captive behind the grief and loneliness that had taken over her soul. Who would help her anyway?
Scars marked her wrists from the many times she cut them. Watching the blood ooze from her pale skin, she would feel some of the heaviness of her grief seep from her heart as the blood seeped from her wrist. It was all she knew to do, to lighten the pain that held her captive in her heart. To hurt herself physically took away her emotional pain that weighed heavy on her heart.
With every glance from an outsider brought more pain, because she knew that they judged her, knew what they thought of her. Her heart was as black as the lipstick she wore.
How did I ever allow myself to get here? Why didn't I stop it? She asked herself so often that her head spun. No one understands me, no one but him… She thought, though it wasn't true. He treated her meanly, and cared nothing for her. He was angry, and he no longer was kind and gentle like when she first met him and he lured her into their group. He was off working on others, luring them into the group with his charm.
She wanted to warn his victims, but she didn't, hiding constantly behind the fear that he put in her heart. Run, run as far away as you can from him, because once he holds you captive there is nothing left, you will forever be captive. Like me…
Annalise would watch helplessly as one by one, he would draw more and more lost souls into the group. Other lost souls like me…
It had been a beautiful fall day, when yet again, Annalise met another young man that would change her life.

To be continued...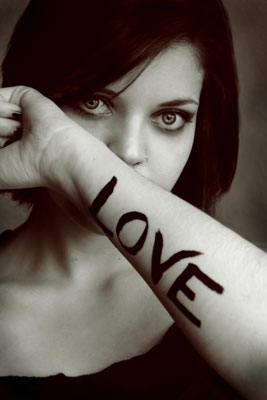 © Michelle B., Blairsville, GA