Pictures (part 1)
May 28, 2009
Her face, caught in a laugh, held the golden hue of the sun. Strands of wavy chocolate brown hair lazily fell across her face, brushing her cheeks and trailing her brow. Everything around her is a blur, she was the one he was focused on. Nothing else mattered, just this girl. People say that a picture says a thousand words, but he would disagree. This picture doesn't tell that it was taken among the last days of summer, or that she had eaten a cone of strawberry ice cream five minutes before. The reason they were in that field and the meaning of the flower in her hair is unknown. All you hear in this photograph is the love screaming through her eyes.
He dropped the picture onto his desk to join the other snapshots of her and glanced at the clock. 2:30. Yawning from the sleep that wouldn't come, he turned off the lamp and was blanketed in darkness. Feeling his way through the shadows of the night he paused, remembering something she once said.

"Look at your hands," she demanded, grabbing his and nudging them towards him.
A grin tugged at the corners of his mouth as he brought his hands in front of his face and stared intently at them. Annoyed he wasn't seeing her discovery, she smacked him lightly on the arm.
"I'm serious! Really see them."
Trying to seem more sincere he creased his eyebrows while looking at his fingers. She rolled her emerald eyes, then focused on her hands. "Hands are the most amazing part of the body. Think about it," she looked up at him to make sure he was listening. He opened his eyes wider to show he was paying attention. "We use our hands everyday, but they aren't just to get us through the day, they are also how we show our emotions. All these lines, every crease, holds great power," her eyebrows creased as she worked to translate her thoughts. "They show love, strength, the wear of our life, and sometimes what we are trying to say. Hands tell the story we ourselves can not tell."
Her eyes were locked on her hands, reading every line, as he looked past his hands at her.

He stopped and focused on his hands, guiding him safely to his room. Running his hand lightly over the grainy wallpaper he tried to isolate all his feelings onto this one sense. His hands moved across the ridges, feeling every imperfection. Awareness of her flooded his mind and he drew his hand back quickly. Striding forward, arms still out, he concentrated on the strain of his eyes in the darkness.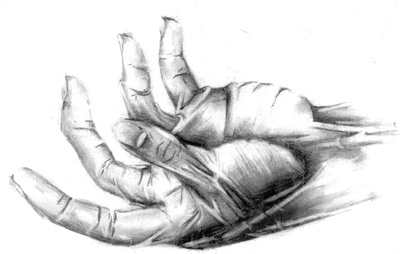 © Yisrawayl G., Philadelphia, PA