Kisses from Heaven's Fallen Angel
April 17, 2009
The boy in front of was the hottest person ever. His name is Eric. He has the cutest nose and the best smile you could ever imagine. He has always been the hottest boy. No matter way nobody competed with Eric.
"So, Carly, I was wondering what the hell you think your doing." I had just asked Eric if he liked anyone in the class. Apparently not. My smile went from a mile wide to a frown. His velvety voice danced around my head as I considered what to say.
"Well do you? I promise I won't tell." I said. He just kept looking at me like I was a moron. I stared into those chocolate hazel brown eyes until he looked away and laughed with his friends. We were by the lockers at lunch and alone except his gang of people. They never left his side.
" Get away from me you ugly dumba**," He looked at me once again and shook his head. He pushed me against the lockers behind me when I tried to follow him. I head hit the metal with an audibale thud. My books for 4th period fell to the floor and ended up all over the place. I landed on the ground with a head ache and blurred vision. I watched lazily as Eric and his gang walked away laughing and making fun of me. I go to my knees and started to clean up the mess.
"Here, let me help you." A sweet silky voice said from not far away. I look up into the baby blue eyes of Tanner.
"Thanks."I replied quickly looking away from those eyes. They were like heaven on earth. We picked up books together until one was left. I reached for it at the same time as him and our hands touched. I flinched but still held onto the book. I turned my head to look into those eyes again to find them starring right back at me. "Thanks again for helping me," I said quietly. I brought the book to the rest of the pile in my hands and stood. He was still crouched down when I looked. He stood up and stared into my eyes again. This time I saw something different. I saw an emotion I wanted to find in Eric's eyes. Love.
"I was wondering if you would like to go to the football game with me?" Tanner said. He was a little nervous so I knew in that minute that the love in his eyes were directed at me.
"Sure,"I said breathlessly. I kept staring into those eyes for a few more minutes until the bell rang for lunch to end. "Well I have to go. I have FRENCH! Fun!"I said sarcasticly. But I didn't move. And nether did he. He was leaning towards me. Every second he was closer until I could smell his minty breath in my face. I realised I was leaning towards him too. Finally our lips met. A flame danced in them. Going through my veins until they reached my heart. My heart in return skipped a beat and ran faster and faster until he finished it. His eyes were open and the full blue now danced with passion. I felt like I was glowing in the hall filled with other kids. Then the bell rang again and we sprinted to class together. Hand in hand. Then the adventure began again with my love life.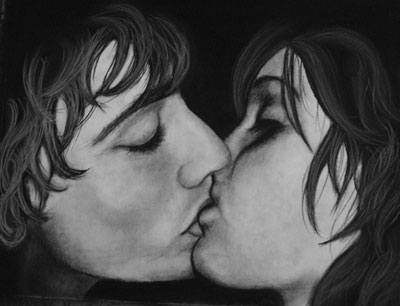 © Anna Y., St. Robert, MO