Fever Dreams
February 26, 2015
     Rebel light sneaking in from outside the curtained window cut through the dust-laden air to shoot a beam through the room, illuminating a day-old glass of water. That is all he saw, wrapped in cottons and wools of noninvasive colors, sweat condensing beneath him, neck stiff, strained. The residence was quiet, but in his aching, fatigued state he heard outside some sort of a distant cry - of victory or lament he did not know.

     In a strength that would be unappreciated by one of the right mind or health, roaring but silent he forced his body to move, move over mountains and gulches, until he lay facing the vacant wall and purposeless window. His heart beating erratically in illness, the moments far from relaxation ran by. In waiting, a large predatory bird called somewhere far above him. From his vantage point, all he could see through a crack in the curtain was a sliver of china blue light.

     That glass of water had been untouched; he hadn't the strength to lift it in its artisanal, brutal, heavy form. The guarantee of hunger had left him in sickness and he couldn't think of a future wanting to eat a dry slice of bread or a parching cut of meat. He thought in the bed, either in sleep or sleeplessness.

     In fever dreams he dreamt of work and the undesired outcome of his condition. Could that scream have been of a woman checking on her ailing, shaking mother, only to find her cold as the drenched rag in her hand?

     In fever dreams he saw that glass, saw it drop to the floor atop a brilliant textile rug, wetness seeping and darkening the fabric as the shards became indiscernible in the lightless room. His departed family and his young, bright nephew who he would soften his actions and words around, and all his relatives before him would could their feet on the merciless, defined shards.

     In fever dreams he relived, memories relearned, and he was doomed again from the start. He peeled open his aching eyes to that exposed crack of blue sky. Although his body still in bed, his consciousness roamed the quiet streets. A hawk waddles along the sandy paved stones. A young woman of poverty flies above with no need to justify. They both scream in the same tone, no mind able to logically conclude anything from the scene. The hawk and the girl harmonize until he crawls from his ticking sleep less aware than he was before.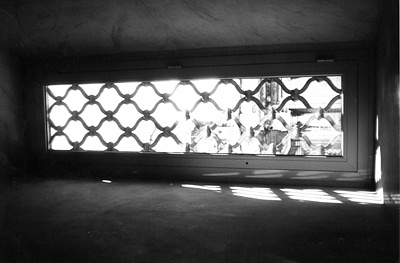 © Jimmy S., Glendale, AZ